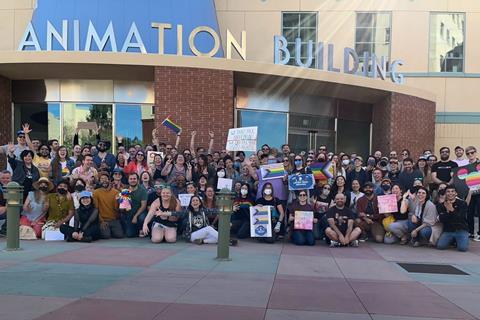 LGBTQ Disney staff and supporters staged a walkout at the company's Burbank headquarters on Tuesday (22) in response to the company's stance over Florida's contentious 'Don't Say Gay' bill.
Employees congregated in the morning by the Bette Davis Picnic Area and numbered more than 70, according to reports. Their action came as a number of Disney companies including Hulu, Disney+, National Geographic, FX and Disney Parks posted messages of solidarity on social media.
"We stand with our LGBTQIA+ colleagues, storytellers, families, friends, and fans who are targeted by laws that marginalize and diminish their identities and lives," read a post from Hulu. "We remain committed to telling inclusive stories that unite us and celebrate the diverse LGBTQIA+ community."
Disney staff have staged virtual walkouts in the past week and protestors have called on Disney, which employs thousands of people in Florida at its Disney World theme park, to take decisive action to block the 'Don't Say Gay' legislation, which effectively bans discussion of sexual orientation and gender identity in lower grades in Florida's public schools.
Disney CEO Bob Chapek has come under fire for his indecisive response to the bill. After an initial period of silence Chapek apologised on March 10 for the company's stance and said Disney would pause political donations in the state.
The CEO also requested a meeting with Florida governor Ron DeSantis, whose signature is all that is required to pass the bill into law after it was voted through in both houses of the state legislature. Similar bills are on the table in other US states.
In an open letter on the website 'Where Is Chapek?', anonymous Disney employees wrote Chapek's statements had "utterly failed to match the magnitude of the threat to LGBTQIA+ safety represented by this legislation".
The letter called on Disney hierarchy to cut all donations to DeSantis and others mentioned in the letter. Against a backdrop of Disney requiring some employees to relocate to Florida for work the letter called for an actionable plan protecting employees from "hateful legislation".
The points include: stopping construction and investment in Florida "until hateful legislation is repealed"; halting efforts to move employees from California to Florida; issuing a guarantee that no employee will be fired for refusing to move to Florida; and providing support for those employees and their families that have already relocated.
Recently LGBTQIA+ Pixar employees and supporters posted a statement that Disney was ordering scenes of same-sex affection to be cut from Pixar films. Subsequently it emerged that a same-sex kiss had been reinstated in the upcoming Toy Story spin-off Lightyear.