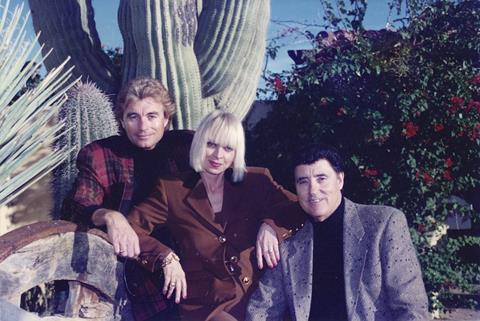 Israeli documentary festival Docaviv will run as a hybrid event from July 1-10, with screenings both in Tel Aviv's cinemas and online.
It will play over 100 Israeli and international documentaries in both on-site and online screenings. All on-site screenings will run in compliance with local regulations at the time.
Scroll down for a list of the Israeli titles in the festival
Cinemas in Israel are currently allowed to open with a maximum capacity of 75%, or 300 people per room. Cinemagoers are required to present a 'green pass' showing they have had two doses of a Covid-19 vaccine.
The festival has selected 13 documentaries for this year's Israeli Competition, including nine world premieres.
Those nine include All The Trees Are Blowing In The Wind, from prolific documentarian Tomer Heymann, about a boy with Asperger's Syndrome who embarks on a journey in search of his biological parents in Guatemala. Heymann's previous films include 2018's Jonathan Agassi Saved My Life, which won best Israeli Documentary at the Jerusalem Film Festival.
Also selected is Kobi Farag and Morris Ben-Mayor's Queen Shoshana, about Yemeni-Israeli singer Shoshana Damari; and Shlomi Eldar's Riding With A Spy, accompanying Israeli whistleblower Anat Kamm on a cross-country road trip through the United States.
The Israeli Competition will award a total of 256,000 ILS ($78,767) in prizes, including 70,000 ILS ($21,538) to the best Israeli film.
The Beyond The Screen strand was launched for last year's festival; this year the strand will be presented in memory of Docaviv founder Ilana Tsur, who was director of the festival for its first decade and died last year.
Further Israeli titles across the festival will include music documentary The Eternal Flame, directed by Ranni Midyan, former member of Eternal Flame, the group that is the subject of the film; and Idan Glikzelig's Depth of Field competition title State Of Emergency, a tragicomic look at Israel's addiction to living in a perpetual state of crisis.
The international competition titles will be announced next month.
Docaviv 2021 programme
Israeli Competition
A Normal Man, dir. Zvi Landsman – world premiere
All The Trees Are Blowing In The Wind, dir. Tomer Heymann – world premiere
Blue Box, dir. Michal Weits – Israeli premiere
Dirty Tricks, dir. Daniel Sivan – Israeli premiere
Holes, dir. Shirly Berkovitz – world premiere
How To Say Silence, dir. Shir Newman – world premiere
Nelson's Last War, dir. Avi Maor Marzuk – world premiere
Queen Shoshana, dirs. Kobi Farag, Morris Ben-mayor – world premiere
Riding With A Spy, dir. Shlomi Eldar – world premiere
Summer Nights, dir. Ohad Milstein – world premiere
The Fourth Window, dir. Yair Qedar – Israeli premiere
Viral, dirs. Udi Nir, Sagi Bornstein – Israeli premiere
Yamna's Blessing, dir. Ilanit Swissa – world premiere
Beyond the Screen award
A Happy Ending, dir. Tamar Tal Anati – world premiere
A Reason To Live, dir. Arik Alon – world premiere
Two Minutes To Midnight, dir. Yael Bartana – Israeli premiere
Depth of Field Competition
One-Way Street, dir. Erez Pery – Israeli premiere
State Of Emergency, dir. Idan Glikzelig – world premiere
Arts and Culture
Grossman, dir. Adi Arbel – world premiere
Panorama
Apples And Oranges, dir. Yoav Brill – world premiere
Hot Headed, dir. Arthur Abramov – world premiere
The Eternal Flame, dir. Ranni Midyan – world premiere
Music
Shlomo Bar – A Musical Documentary, dir. Gilad Inbar – world premiere
That Orchestra With The Broken Instruments, dir. Yuval Hameiri – world premiere
Masters
Our Beds Are Burning, dir. Igal Bursztyn – world premiere
The Good Soldier, dir. Silvina Landsmann – world premiere