London-based documentary outfit Dogwoof has taken world sales (outside of the US) and UK distribution to Chris Martin's war correspondent doc Under The Wire.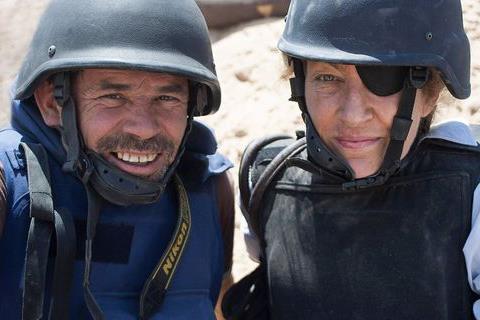 The film will have its world premiere at the UK's Sheffield Doc/Fest in June and will have its international premiere at US festival AFI DOCS the same month. A theatrical release is being lined up for autumn 2018.
Under The Wire chronicles the story of Sunday Times war correspondent Marie Colvin and photographer Paul Conroy's mission to Homs, Syria in February 2012. Their assignment was to cover the plight of trapped Syrian civilians under siege by their own government. Colvin was killed when the international media centre was hit by Syrian Army artillery fire. Conroy made it out alive despite being critically injured.
The film was directed by Chris Martin, whose credits include The War On Democracy, and produced by Tom Brisley, co-founder of Arrow Media, in association with Vice Films.
The project was supported by HISTORY Films (in association with A&E IndieFilms), BBC Storyville and the BFI. Executive producers are Molly Thompson for HISTORY Films, Mary Burke for the BFI, Emma Loach and Mandy Chang for the BBC, and Eddy Moretti and Ben Anderson for Vice Films.
"A&E IndieFilms continue to deliver world-class, heavy-weight films that matter and Dogwoof is proud to partner with them for Under The Wire and continue our relationship of getting these urgent, essential films to a global audience," commented Anna Godas, CEO, Dogwoof.
"With journalists under attack around the world, the story of Marie Colvin and Paul Conroy is important and timely," added Molly Thompson, senior vice President, A&E IndieFilms.
Director Chris Martin says: "The story of Marie's final assignment to Homs stands out as a shining example of pure journalism. A stunning commitment to telling the truth, to making a difference, and to saving lives - whatever the cost. I only hope we have done it justice.''
Dogwoof's recent UK releases include Stanley Kubrick doc Filmworker and Vivienne Westwood portrait WESTWOOD: Punk, Icon, Activist.