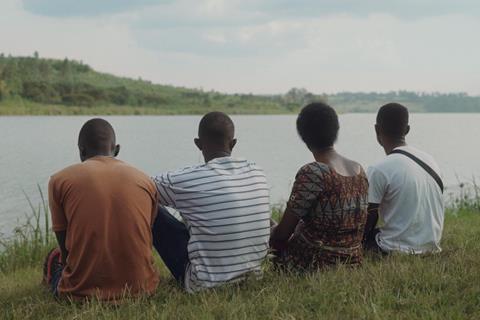 Sarah Mallegol's Kumva – Which Comes From Silence, is among the 10 features selected for the international competition of Germany's DOK Leipzig festival, taking place from October 8-15.
Kumva is one of six world premieres in the section and sees children and parents who experienced the Rwandan genocide of 1994 speak about the atrocity which has traumatised generations.
Scroll down for the full list of features in competition
The film is in Kinyarwanda and French language; it is a debut feature for French director Mallegol.
The competition also includes the world premiere of Stillstand, the latest film from Austrian director and producer Nikolaus Geyrhalter, whose previous work includes 2005 IDFA award-winner Our Daily Bread.
Stillstand depicts the Covid-19 pandemic in Austria from March 2020 to December 2021, as the country oscillated between various stages of lockdown.
Six features are takings part in the international competition animated film section, including the German premiere of Spanish animation Tender Metalheads, which played in competition at Annecy in June.
Nine features, all world premieres, will screen in the German competition strand.
In total, this year's programme includes 225 films and XR works, from 60 countries. The festival will take place from October 8 to 15.
DOK Leipzig 2023 feature competitions
* - world premiere
International Competition Documentary Film
Beauty And The Lawyer (Arm-Fr) dir. Hovhannes Ishkhanyan*
El Shatt – A Blueprint For Utopia (Cro-Ser) dir. Ivan Ramljak
Kumva – Which Comes From Silence (Fr) dir. Sarah Mallegol*
Mamie 44 (Fr) dir. Lucie Deche*
Nowhere Near (Phi) dir. Miko Revereza
Stillstand (Austria) dir. Nikolaus Geyrhalter*
Suzanne From Day To Day (Fr) dirs. Stephane Manchematin, Serge Steyer*
Universe Department Store (S Kor) dir. Taewoong Won
Where Zebus Speak French (Fr-Mad-Ger-B Faso) dir. Nantenaina Lova*
While The Green Grass Grows (Switz-Can) dir. Peter Mettler
International Competition Animated Film
Johnny & Me (Ger-Switz-Austria) dir. Karin Rothe
Knit's Island (Fr) dirs. Ekiem Barbier, Guilhem Causse, Quentin L'helgoualc'h
Sultana's Dream (Sp-Ger) dir. Isabel Herguera
Tender Metalheads (Sp) dirs. Joan Tomas Monfort, Carlos Perez-Reche, Juanjo Saez
When Adam Changes (Can) dir. Joel Vaudreuil
German Competition Documentary Film
Die Ausstattung der Welt, dirs. Susanne Weirich, Robert Bramkamp*
Bei uns heißt sie Hanka, dir. Grit Lemke*
Einhundertvier, dir. Jonathan Schornig*
For The Time Being, dir. Nele Dehnenkamp*
The Gate, dirs. Jasmin Herold, Michael David Beamish*
Home Sweet Home, dir. Annika Mayer*
Die Kinder aus Korntal, dir. Julia Charakter*
Sick Girls, dir. Gitti Gruter*
Togoland Projektionen, dir. Jurgen Ellinghaus*
Audience competition
Bye Bye Tiberias (Fr-Pal-Bel-Qat) dir. Lina Soualem
Eat Bitter (CAR-China) dirs. Pascale Appora-Gnekindy, Ningyi Sun
The Gullspang Miracle (Swe-Nor-Den) dir. Maria Fredriksson
The Mother Of All Lies (Mor-Egy-S Arabia-Qat) dir. Asmae El Moudir
A Still Small Voice (US) dir. Luke Lorentzen
Vika! (Pol-Ger-Fin) dir. Agnieszka Zwiefka
Vista Mare (Austria-It) dirs. Florian Kofler, Julia Gutweniger
Camera Lucida
The Apocalyptic Is The Mother Of All Christian Theology (US) dir. Jim Finn
Feet In Water, Head On Fire (US-Can) dir. Terra Long
Man In Black (Fr-US-UK) dir. Bing Wang
Play Dead! (Fr-Por) dir. Matthew Lancit*
The Tuba Thieves (US) dir. Alison O'Daniel