The principle of territoriality should be preserved for the European film industry in the European Commission's (EC) plans for a Digital Single Market (DSM) strategy, according to Günter Oettinger, European Commissioner for Digital Economy and Society.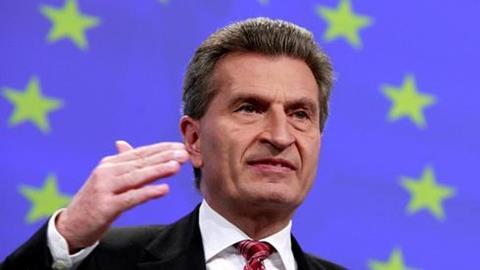 Speaking at this year's Munich Media Days conference, Oettinger argued that "if one is striving for a digital single market and has a digital vision of Europe, then, as a general rule, national boundaries should no longer be observed because they were created by Napoleon" and then re-drawn at international conferences in Vienna, Versailles, Potsdam and Yalta after the Napoleonic, First and Second World Wars, respectively.
"Napoleon knew little about digital services and communication or about electronic media," he observed. "National boundaries may be important for culture, language, economic policy and education, but I regard national and regional boundaries to be increasingly irrelevant in the digital sector."
Turning to the case of the film industry in Europe, he pointed out that film funding is established on the basis of national markets.
"If there was only one Europe, without borders, the business model for these national film funds would disappear and their hard work ruined. Then Google and Hollywood would take everything over. There wouldn't be any more talk of cultural diversity."
"This means that every rule also needs exceptions - keyword territoriality," Oettinger suggested.
His "good cop" stance regarding the position of the film sector in the Commission's DSM strategy appears to still be at odds with previous pronouncements made by Andrus Ansip, EC Vice-President for the Digital Single Market, on the issues of terrirotiality and geoblocking.
More clarification on Ansip's position may come later today when he and Commission President Jean-Claude Juncker join German Chancellor Angela Merkel and French President François Hollande and members of the European Round Table of Industralists at the Elysée Palace in Paris for a Franco-German conference on the digital priorities in the EU.
EU support for UK film industry
Meanwhile, Tibor Navracsics, European Commissioner for Education, Culture, Youth and Sport, has responded to a written parliamentary question filed by Conservative UK MEP David Campbell Bannerman about the number of British companies benefitting from the EU's Creative Europe programme.
Navracsics revealed that UK-based organisations had attracted 12.5% of the budget for the Culture sub-programme, which represented the second highest amount allocated to organisations from any of the countries participating in that sub-programme.
In the case of the MEDIA sub-programme, the first year of the Creative Europe's operations in 2014 saw the UK benefitting with a total of €18.2m or a total of 16.5% of the total available Europe-wide.
"Half of the direct income awarded to the UK went to film and TV producers, 69 UK films were shown in other European countries and 31 European films were shown in the UK. 52 UK cinemas were supported as part of the European Cinemas Network. The UK was awarded nearly 25% of total funds available through the new Audience development scheme and seven training providers, four markets, two film festivals and one video game were supported." the Commissioner declared.
EURO-BRIEFS
Cultural diversity in the digital era
Filmmakers Jaco van Dormael, Costa Gavras, Nabil Ayouch, and Thierry Michel were among the artists signing a declaration supporting cultural diversity in the digital era at a conference in the Belgian city of Mons, one of 2015's European Capitals of Culture, at the weekend.
The event was held to celebrate the 10th anniversary of the UNESCO Convention on the Diversity of Cultural Expression and also attended by Clément Cezard, Director Europe Business Development for Netflix, musician Youssou N'Dour, and film director Abderrahmane Sissako, among others.
Show of solidarity
Earlier last week, a delegation of filmmakers including Oscar-winning director Michel Hazanavicius, Polish actor Andrzej Chyra and veteran German actress Hanna Schygulla met with members of the European Parliament and European Commission to call on the EU "to take measures ensuring member states respond to refugee matters by acting jointly, in solidarity, and with humanity, in accordance with the EU's founding values."
The meetings in Brussels were an opportunity to throw a spotlight on the "For A Thousand Lives: be Human" petition in response to the current migrant crisis in Europe.
More than 5,500 European filmmakers and other film professionals have put their name on the petition website (http://for-a-1000-lives.eu/), including Sophie Marceau, Daniel Craig, Claude Lanzmann, Mike Leigh, Ulrich Seidl, Til Schweiger, Isabelle Huppert, Alfonso Cuaron, Joshua Oppenheimer and Pawel Pawlikowski.