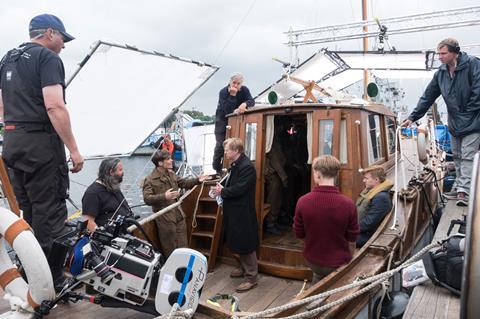 The Art Directors Guild has announced nominations for the 22nd Annual Excellence in Production Design Awards in multiple categories including features, television, and commercials.
Nominees in the feature film categories include Darkest Hour, The Shape Of Water, Downsizing, Get Out, and Lady Bird.
Among the television nominees are this year's Emmy stand-outs The Handmaid's Tale and Game Of Thrones.
Animated feature films were included in the nominations for the first time this year and include top-earning titles Cars 3, Coco, and Despicable Me 3.
The Awards Gala is set for January 27 at the Ray Dolby Ballroom at Hollywood and Highland.
Excellence In Production Design For A Feature Film
PERIOD FILM
Darkest Hour, Sarah Greenwood
Dunkirk, Nathan Crowley
Murder On The Orient Express, Jim Clay
The Post, Rick Carter
The Shape Of Water, Paul Denham Austerberry
FANTASY FILM
Beauty And The Beast, Sarah Greenwood
Blade Runner 2049, Dennis Gassner
Star Wars: The Last Jedi, Rick Heinrichs
War For The Planet Of The Apes, James Chinlund
Wonder Woman, Aline Bonetto
CONTEMPORARY FILM
Downsizing, Stefania Cella
Get Out, Rusty Smith
Lady Bird, Chris Jones
Logan, François Audouy
Three Billboards Outside Ebbing, Missouri, Inbal Weinberg
Animated Film
Cars 3, William Cone, Jay Shuster
Coco, Harley Jessup
Despicable Me 3, Olivier Adam
The LEGO Batman Movie, Grant Freckelton
Loving Vincent, Matthew Button
Nominees For Excellence In Production Design For Television
One-Hour Period Or Fantasy Single-Camera Series
A Series Of Unfortunate Events: "The Bad Beginning: Part One," "The Reptile Room: Part One," "The Wide Window: Part One", Bo Welch
The Crown: "A Company Of Men," "Beryl," "Dear Mrs. Kennedy", Martin Childs
Game Of Thrones: "Dragonstone," "The Queen`s Justice," "Eastwatch", Deborah Riley
Mindhunter: "S1:E1," "S1:E4," "S1:E9", Steve Arnold
Stranger Things: "Chapter Six: The Spy," "Chapter Eight: The Mind Flayer," "Chapter Nine: The Gate", Chris Trujillo
One-Hour Contemporary Single-Camera Series
American Gods: "The Bone Orchard," "The Secret Of Spoons," "Head Full Of Snow", Patti Podesta
The Handmaid's Tale: "Pilot, Offred," "Birth Day," "Nolite Te Bastardes Carborundorum", Julie Berghoff
The Handmaid's Tale: "The Bridge", Andrew Stearn
Mr. Robot: "Eps3.0_Power-Saver-Mode.H," "Eps3.1_Undo.Gz," "Eps3.2_Legacy.So", Anastasia White
Twin Peaks: "Ep. 1: Part 1," "Ep. 8: Part 8," "Ep. 15: Part 15", Ruth De Jong
Television Movie Or Limited Series
American Horror Story: Cult: "Election Night," "Winter Of Our Discontent", Jeff Mossa
Big Little Lies: "Somebody`s Dead," "Living The Dream," "You Get What You Need", John Paino
Black Mirror: "Uss Callister", Joel Collins
Fargo: "The Narrow Escape Problem," "The Law Of Inevitability," "Who Rules The Land Of Denial?", Elisabeth Williams
Feud: Bette And Joan: "Pilot," "And The Winner Is…," "You Mean All This Time We Could Have Been Friends?", Judy Becker
Half Hour Single-Camera Series
Future Man: "Pandora's Mailbox," "Beyond The Truffledome," "A Date With Destiny", Jessica Kender
Glow: "Pilot," "The Wrath Of Kuntar," "The Dusty Spur", Todd Fjelsted
Master Of None: "Le Nozze," "Thanksgiving," "Amarsi Un Po", Amy Williams
Silicon Valley: "Hooli-Con," "Server Error", Richard Toyon
Veep: "Omaha", Jim Gloster
Multi-Camera Series
9Jkl: "Pilot," "Lovers Getaway," "Set Visit", Stephan Olson
The Big Bang Theory: "The Romance Recalibration," "The Separation Agitation," "The Explosion Implosion", John Shaffner
The Ranch: "My Best Friend," "Last Dollar (Fly Away)," "Wrapped Up In You", John Shaffner
Superior Donuts: "Pilot," "Crime Time," "Arthur`s Day Off", Stephan Olson
Will & Grace: "Eleven Years Later," "A Gay Olde Christmas", Glenda Rovello
Short Format: Web Series, Music Video Or Commercial
Apple: "Bulbs", James Chinlund
Chanel: "Gabrielle", Shane Valentino
Katy Perry: "Bon Appétit", Natalie Groce
Nike: "Equality", Ruth De Jong
Star Wars Battlefront II: "Rivalry / Ps4", Jason Edmonds
Variety Or Competition Series/Awards Or Event Special
Bill Nye Saves The World: "Earth Is A Hot Mess", James Pearse Connelly
Golden Globe Awards: "74Th Annual", Brian Stonestreet
Portlandia: "Portland Secedes," "Ants," "Fred`s Cell Phone Company", Schuyler Telleen
Saturday Night Live: "Aziz Ansari + Big Sean," "Alec Baldwin + Ed Sheeran," "Larry David + Miley Cyrus", Keith Ian Raywood, Eugene Lee, Akira Yoshimura, N. Joseph Detullio
Super Bowl Halftime Show: "Starring Lady Gaga", Bruce Rodgers
As previously announced, ADG Awards will honour eight-time Oscar nominee Kathleen Kennedy with the Cinematic Imagery Award. The "William Cameron Menzies Award" will honour Disney's Oscar-nominated animation filmmakers Ron Clements And John Musker.
The ADG will present Lifetime Achievement Awards to production designer Norm Newberry, Emmy-winning and Oscar-nominated production designer/set designer James Murakami, scenic artist John Moffitt, senior illustrator/art director Martin Kline, and the late Oscar-winning production designer Sir Ken Adam. Senior illustrator and Bambi's concept designer Tyrus Wong will be inducted into the ADG Hall of Fame.
Final online balloting will be held January 8-25, and winners will be announced at the dinner ceremony on Saturday, Jan. 27. ADG Awards are open only to productions when made within the US by producers who have signed the IATSE agreement. Foreign entries are acceptable without restrictions.