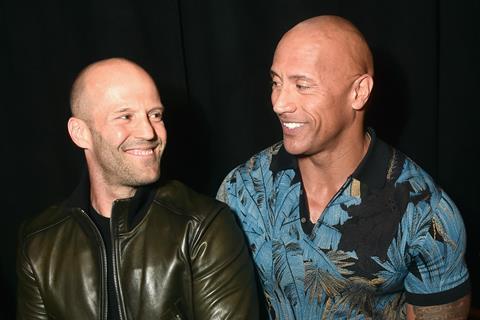 Dwayne Johnson and Jason Statham delivered the highlight of Universal's CinemaCon presentation on Wednesday (3) when they took to the stage in Las Vegas to introduce a non-stop action-packed first trailer from Fast And Furious spin-off Hobbs & Shaw.
"Our goal was to build out the Fast And Furious franchise," Johnson told the audience at Colosseum in Caesars Palace, Las Vegas. "We wanted to create something that was special, something that had our own tapestry, our own feel, or own energy but the bottom line was we wanted to make something that was fun."
"Amen," said Statham, who portrays Shaw, an outcast who teams up with Johnson's former lawman Hobbs to thwart a cyber-enhanced villain played by Idris Elba. Vanessa Kirby also stars and David Letch directed the tentpole, which takes place in multiple locations including England and Samoa and opens on August 2. Johnson said Hobbs & Shaw was the first time his native Samoa has been featured in a major film.
Jennifer Hudson performs 'Memory' from Cats
Jennifer Hudson rounded out the session with a live performance of Memory from Cats, Tom Hooper's long-gestating adaptation of the Andrew Lloyd Webber stage musical that opens on December 20. Chairman of Universal Filmed Entertainment Group Donna Langley said it was too soon to show footage, although she did tee up a video montage featuring scenes from the production and testimonials from a cast that includes Taylor Swift, Hudson, Elba, Royal Ballet principal dancer Francesca Hayward, Judi Dench, Jason Derulo, and James Corden.
Langley and several of her senior executives appeared throughout the presentation, reminding the crowd that Universal has enjoyed what Langley called "a pretty incredible start to 2019", powered by three number one US releases: Jordan Peele's Us, DreamWorks Animation's How To Train Your Dragon: The Hidden World, and M Night Shyamalan's Glass.
Langley delivered the obligatory tribute to the theatrical experience when she talked about "that electric feeling of seeing a movie on the big screen for the first time." Towards the end of the session she told the audience of mostly theatre owners to look out for Sam Mendes' mysterious war film 1917, which is being made in association with Amblin Partners. The executive said it was "unlike any [war film] you have every seen before."
Danny Boyle from Planet Brexit
Jennifer Hudson's dramatic rendition of 'Memory' was one of two live musical highlights from the presentation after a touching acoustic version of Yesterday from Himesh Patel, the impressive feature newcomer in Danny Boyle's Yesterday from Working Title.
Boyle introduced himself to attendees as hailing from "Planet Brexit" and said he was surprised the story based on a screenplay by Richard Curtis had never been told before. The filmmakers selected Patel after a global casting call to play a singer-songwriter who realises he is the only person on Earth to remember The Beatles after a worldwide electrical surge removes all evidence the band and its music ever existed. Lily James and Ed Sheeran also star, and the Tribeca Film Festival closing night world premiere opens in North America on June 28.
Seth Rogen and Even Goldberg not unsurprisingly drew the loudest laughs when they cued up footage from their August 16 release Good Boys, about three schoolchildren who embark on an epic journey en route to a party. Stars Jacob Tremblay, Keith Williams and Brady Noon turned up and bantered about not being allowed to watch the R-rated film.
DreamWorks Animation president Margie Cohn, riding high on the $500m worldwide box office accomplishment of How To Train Your Dragon: The Hidden World, invited Abominable director Jill Culton and co-director Todd Wilderman to introduce footage from what will be Universal's second release of a DreamWorks Animation title.
The English-language film, produced in association with Pearl Studio, the production entity formerly known as Oriental Dreamworks and now fully owned by China-based CMC Capital Partners, features a Chinese female lead and centres on a yeti who must return to his family.
Downton Abbey, Emma Thompson
Focus Features chairman Peter Kujawski showed elegant first footage from the feature version of Downton Abbey, in which the Crawley household prepares for a royal visit. The September 20 release stars Maggie Smith, Imelda Staunton, and Hugh Bonneville, among others.
Emma Thompson is not in the Downton cast and joked about her absence in a segment promoting London-set rom-com Last Christmas. The British actor and writer, on stage with director Paul Feig and co-star Henry Goulding, said she co-wrote the screenplay based on the late George Michael's song of the same name. The November 15 release features unreleased music from Michael. Emilia Clarke stars in the lead opposite Goulding, and the cast includes Goulding's Crazy Rich Asians co-star, Michelle Yeoh.
Kevin Hart and Tiffany Haddish walked on stage, bearing a fidgety dog and a feisty rabbit, respectively, to tee up a trailer for the June 7 release of Illumination Entertainment's The Secret Life Of Pets. The animation features Harrison Ford as a gruff dog in his animation voice debut and marks the sequel to the 2016 original, which scored the biggest opening weekend ever for an original film – animated or otherwise – and earned more than $875m worldwide. The point was made that Illumination's total worldwide box office to date has exceeded s$6bn in less than 10 years.
'Ma' star Octavia Spencer shows dark side
Octavia Spencer showed her dark side with footage from her longtime friend and director Tate Taylor's (who directed her to an Oscar in The Help) Blumhouse's release Ma, which opens on May 31. In her first solo lead, the actor plays a lonely woman who befriends a group of teenagers and invites them to party at her house. "I got to do some very disturbing, freaky things," said Spencer.
Blumhouse Productions chief and super producer Jason Blum, whose recent hits include recent Jordan Peele's Us, Spike Lee's BlacKkKlansman, and M Night Shyamalan's Glass, had introduced Spencer and Tate to the stage, after reminding the crowd that Blumhouse's next release is Cragig Zobel's action thriller The Hunt on October 18.
Girls' Trip and Night School producer Will Packer introduced Regina Hall, Issa Rae, Marsai Martin, stars of his upcoming comedy Little, and director Tina Gordon. Martin, a regular from TV's Black-ish who is still only 14 and remarkably self-assured, was only 10 years old when she pitched Packer the story of a woman who transforms into her younger self when her adult life becomes too much to handle. Rae said Martin is the youngest executive producer in Hollywood history.
Dennis Quaid and director Gale Mancuso brought a dog on stage – infinitely better behaved than the animals that accompanied Haddish and Hart – to talk up A Dog's Journey, which opens on May 17 and is the sequel to 2017 $200m global hit A Dog's Purpose.
Daniel Kaluuya and his Queen + Slim co-star Jodie Turner-Smith joined writer-producer Lena Waithe and first–time director Melina Matsoukas to introduce engrossing, dreamlike footage from the story of a couple's first date that takes a bad turn when they are pulled over by the police. Waithe said Queen + Slim "shows what it looks like to be black and in love when the world is burning around you." The drama opens on November 17.