Gaye's feature debut Des Etoiles will get its world premiere at Toronto.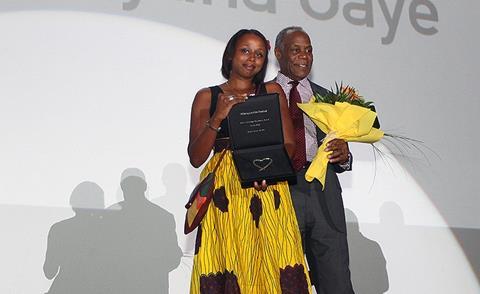 The Katrin Cartlidge Foundation Award has been awarded to director Dyana Gaye at the Sarajevo Film Festival.
Gaye's short Dewenti screened last night to a packed crowd at one of the city's open-air venues.
The annual bursary, given to a new voice in cinema, was awarded by Danny Glover.
French-Senegalese director Gaye's feature debut Des Etoiles will premiere at Toronto.
Previous winners of the award include Cary Fukunaga, Juanita Wilson and last year's winners Diana El Jeiroudi and Orwa Nyrabia.
For the last nine years the Katrin Cartlidge Foundation, which aims to promote new talent and new voices, has appointed a curator, selected from among Cartlidge's friends and colleagues, who in turn chooses a recipient of the annual bursary.
English actress Katrin Cartlidge, who died in 2002, is well known in the Balkans for her performances in Milcho Manchevski's Before the Rain and Danis Tanovic's No Man's Land as well as performances in Mike Leigh's Naked, Career Girls and Topsy Turvy and Lars Von Trier's Breaking the Waves.