The Theory of Everything star to voice animated prehistoric adventure.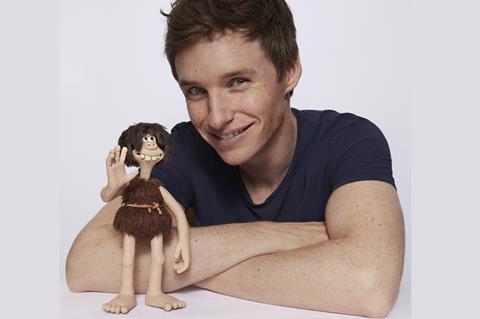 Oscar-winning animation outfit Aardman and Studiocanal have announced that Eddie Redmayne has joined prehistoric comedy adventure Early Man as the voice of lead character Dug.
Redmayne, who won the Oscar for playing Stephen Hawking in The Theory Of Everything and will next be seen in Harry Potter spin-off Fantastic Beasts And Where To Find Them, is the first cast member to be revealed as production begins.
The film is directed by Nick Park, whose stop-motion animated characters Wallace and Gromit have won several Oscars. Early Man marks Park's first feature since Wallace And Gromit: The Curse Of The Were-Rabbit, which won the Oscar for best animated feature.
Park said: "Not only is Eddie a joy to work with, his versatility and boundless energy have really helped to bring my new character to life. He embodies the cheeky charm, fun and plucky wit of Dug and I'm sure he'll get along brilliantly with Dug's sidekick Hognob."
Set at the dawn of time, when prehistoric creatures and woolly mammoths roamed the earth, Early Man tells the story of how caveman Dug with sidekick Hognob unites his tribe against the mighty Bronze Age in a battle to beat them at their own game.
Early Man marks a continuing collaboration between Aardman and Studiocanal following the success of Shaun The Sheep Movie, directed by Mark Burton and Richard Starzak
Studiocanal is co-financing and will distribute in its own territories - UK (Jan 26, 2018), France (Jan 31), Germany (Mar 29), Australia and New Zealand (March 29) - selling worldwide. The BFI (British Film Institute) is also a partner on Early Man.