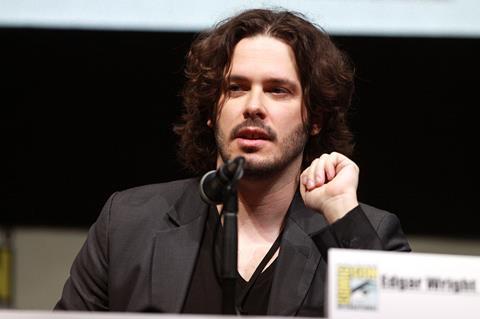 Hot Fuzz director and dedicated cinemagoer Edgar Wright has called for more people working within the UK and US industry to see films with a paying audience.
"I know it sounds like stating the obvious but an important thing for somebody in the film industry to do is to buy a ticket and go and see something with an opening night crowd," said Wright.
The director was delivering the keynote address to an audience of exhibitors at the UK Cinema Association (UKCA) conference, titled 'Audiences - growing the big screen experience', at London's Picturehouse Central today (Mar 3).
Wright, who still goes to the cinema at least once a week, added: "With most of the films I have made, I am always trying to recreate the experience of seeing my favourite movies on a Friday night, opening weekend."
Listing the many cinema venues he attends, Wright said he was flattered by a recent twitter post which said: "if you go to London cinemas long enough, you'll run into Edgar Wright."
"I am always amazed in this industry, in London and especially in Hollywood as well, by how many people who work in the industry, producers and directors, who don't actually go to see films with an audience. Maybe it's because they've got private screening rooms or some fancy set up at home. I have a fancy set up at home but I still come out to the cinema because I want to see it [a film] with a crowd. That's really important to me. I still want to have the same thrill I had watching Star Warswhen I was three years old."
Too many adverts
During a light-hearted but pointed address, Wright also called on advertisers to shorten the commercials shown in advance of movies in British cinemas.
"The commercials are too long," Wright declared. "It is not in all chains, some are worse than others. The commercials are longer for the bigger films," he continued. "I don't mind watching trailers. Trailers are a great thing to watch with an audience and also a great barometer of whether something is going to be a hit or not…but commercials, I could have 50% less."
A particular bugbear for Wright (whose other credits include Shaun Of The Dead and Baby Driver) is commercials before a movie which show "you clips of a movie you are about to see. You know when you see No Time To Die, the new Bond movie, you're going to sit through one watch commercial, one beer commercial and one car commercial - and they're all going to show you clips of the movie you are about to see."
The director, currently editing his latest feature Last Night In Soho, takes particular exception to "commercials on the big screen that you might also see on X Factor [on television]. Any Morrisons [supermarket] commercial, I don't want to be part of my cinema experience."
Speaking after Wright, Michael Tull (research and insight manager at cinema advertising company Digital Cinema Media) challenged the director's remarks about cinema advertising.
"Unlike our first speaker, I actually like cinema advertising and not just because it pays my salary - but also because many forms of industry survey actually say it is the most-liked and trusted of all advertising mediums that are available to brands," Tull said.