Force Majeure, Leviathan and Nymphomaniac among nominees.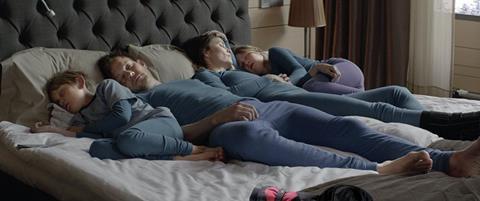 The nominations for the 27th European Film Awards have been announced at the Seville European Film Festival.
More than 3,000 European Film Academy members will now vote for the winners, who will be presented during the awards ceremony on Dec 13 in Riga.
Ruben Östlund's Force Majeure, Pawel Pawlikowski's Ida, Andrey Zvyagintsev's Leviathan, Lars von Trier's Nymphomaniac Director's Cut - Volume I & II and Nuri Bilge Ceylan's Winter Sleep will compete for European Film, with every director - apart from von Trier - up for European Director alongside Steven Knight for Locke and Paolo Virzi for Human Capital.
Roger Michell's Le Week-End is up for European Comedy, alongside Paco León's Carmina & Amen and Pierfrancesco Diliberto's The Mafia Only Kills in the Summer.
The full list of nominations is as follows:
EUROPEAN FILM 2014
FORCE MAJEURE (Sweden/Denmark/France/Norway)
WRITTEN & DIRECTED BY: Ruben Östlund
PRODUCED BY: Erik Hemmendorff, Marie Kjellson & Philippe Bober
IDA (Poland/Denmark)
DIRECTED BY: Pawel Pawlikowski
WRITTEN BY: Paweł Pawlikowski & Rebecca Lenkiewicz
PRODUCED BY: Eric Abraham, Piotr Dzięcioł, Ewa Puszczyńska & Christian Husum
LEVIATHAN (Russia)
DIRECTED BY: Andrey Zvyagintsev
WRITTEN BY: Oleg Negin & Andrey Zvyagintsev
PRODUCED BY: Alexander Rodnyansky & Sergey Melkumov
NYMPHOMANIAC DIRECTOR'S CUT – VOLUME I & II (Denmark/Germany/France/Belgium)
WRITTEN & DIRECTED BY: Lars von Trier
PRODUCED BY: Louise Vesth
WINTER SLEEP (Turkey/France/Germany)
DIRECTED BY: Nuri Bilge Ceylan
WRITTEN BY: Ebru Ceylan & Nuri Bilge Ceylan
PRODUCED BY: Zeynep Özbatur Atakan
EUROPEAN COMEDY 2014
CARMINA & AMEN (Spain)
WRITTEN & DIRECTED BY: Paco León
PRODUCED BY: Paco León, Ghislain Barrois & Álvaro Augustin
LE WEEK-END (UK)
DIRECTED BY: Roger Michell
WRITTEN BY: Hanif Kureishi
PRODUCED BY: Kevin Loader
THE MAFIA ONLY KILLS IN THE SUMMER (Italy)
DIRECTED BY: Pierfrancesco Diliberto
WRITTEN BY: Michele Astori, Pierfrancesco Diliberto & Marco Martani
PRODUCED BY: Mario Gianani & Lorenzo Mieli
EUROPEAN DIRECTOR 2014
Nuri Bilge Ceylan for WINTER SLEEP
Steven Knight for LOCKE
Ruben Östlund for FORCE MAJEURE
Paweł Pawlikowski for IDA
Paolo Virzì for HUMAN CAPITAL
Andrey Zvyagintsev for LEVIATHAN
EUROPEAN ACTRESS 2014
Marian Alvarez in WOUNDED
Valeria Bruni Tedeschi in HUMAN CAPITAL
Marion Cotillard in TWO DAYS, ONE NIGHT
Charlotte Gainsbourg in NYMPHOMANIAC DIRECTOR'S CUT – VOLUME I & 2
Agata Kulesza in IDA
Agata Trzebuchowska in IDA
EUROPEAN ACTOR 2014
Brendan Gleeson in CALVARY
Tom Hardy in LOCKE
Alexey Serebryakov in LEVIATHAN
Stellan Skarsgård in NYMPHOMANIAC DIRECTOR'S CUT – VOLUME I & 2
Timothy Spall in MR. TURNER
EUROPEAN SCREENWRITER 2014
Ebru Ceylan & Nuri Bilge Ceylan for WINTER SLEEP
Jean-Pierre & Luc Dardenne for TWO DAYS, ONE NIGHT
Steven Knight for LOCKE
Oleg Negin & Andrey Zvyagintsev for LEVIATHAN
Paweł Pawlikowski & Rebecca Lenkiewicz for IDA
A special seven-member jury also convened in Berlin and, based on the EFA Selection list, decided on the following awards:
EUROPEAN CINEMATOGRAPHER – Prix CARLO DI PALMA 2014
Łukasz Żal & Ryszard Lenczewski for IDA
EUROPEAN EDITOR 2014
Justine Wright for LOCKE
EUROPEAN PRODUCTION DESIGNER 2014
Claus-Rudolf Amler for THE DARK VALLEY
EUROPEAN COSTUME DESIGNER 2014
Natascha Curtius-Noss for THE DARK VALLEY
EUROPEAN COMPOSER 2014
Mica Levi for UNDER THE SKIN
EUROPEAN SOUND DESIGNER 2014
Joakim Sundström for STARRED UP