EXCLUSIVE: Sales deal for co-pro between MovieBrats, Tangent and Walking The Dog.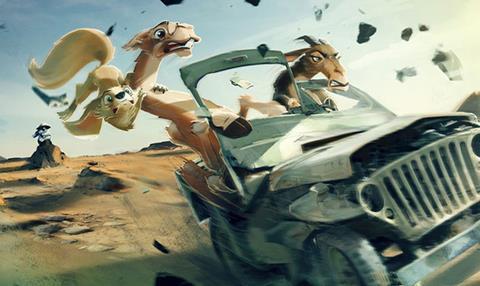 Sydney-based sales agent Odin's Eye Entertainment will launch pre-sales on 3D animated feature Hump at the forthcoming European Film Market (EFM) in Berlin (Feb 9-17).
Veteran Pixar story artist Rob Gibbs, whose credits include Up and Toy Story 2, will make his feature directorial debut on the project, which is based on a screenplay by Amin Matalqa (Captain Abu Raed) and Matt Antonelli.
The film follows a timid but kind-hearted camel that traverses the Arabian desert with an ill-tempered goat and an overconfident desert fox in order to reunite with its owner and best friend, a 10-year-old Bedouin boy.
It will be produced by Germany's MovieBrats Pictures (Lost Place 3D) along with Belgian animation studio Walking The Dog (Richard The Stork) and Canada's Tangent Animation (Ozzy).
The project is in pre-production and has a budget of $16m, according to the filmmakers. It is scheduled for completion in 2019 and has been selected for presentation at the Cartoon Movie forum in Bordeaux this coming March.
Odin's Eye's EFM slate will also include action thriller Cage Dive and additional animation features: Foodiverse, Throne Of Elves, Bad Cat and Arkie, as well as the KiKORiKi franchise.
"Today, more than ever, the world needs universal stories of hope, companionship and trust and we are confident that Hump will resonate with distributors and audiences worldwide," commented Odin's Eye founder Michael Favelle.