EXCLUSIVE: New series to introduce sci-fi elements and touch on both migrant crisis and rise of populist politics.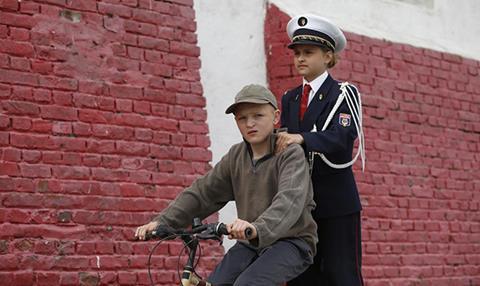 French director Bruno Dumont will present his plans for the second season of his hybrid spoof police procedural TV series Li'l Quinquin at the European Film Market (EFM) this week (Feb 9-17). Paris-based Doc & Film International is handling sales.
Like the first series, it will be set in Dumont's trademark setting of the Opal Coast in northern France and its surrounding countryside.
Entitled Coincoin And The Extra-humans, the drama will revisit the life of social misfit Quinquin who is now grown up and goes by the nickname of CoinCoin.
He spends his time loafing about the area and attending meetings of the Nationalist Party with his friend Fatso. His childhood sweetheart Eve has now left him for a woman
Like the previous series, it will play with the conventions of TV drama. In what appears to be a reference to cult French TV series The Returned (Les Revenants), Dumont plans to add a supernatural element in the second season.
According to the synopsis released by Doc & Film, when a strange magma is found near CoinCoin's home town, the inhabitants suddenly start to behave strangely. Goofy detective Captain Van Der Weyden and his loyal assistant Carpentier set about investigating these alien attacks, discovering that an extra-terrestrial invasion has begun.
Jean Bréhat's of Paris-based Taos Films – who also operates under the associated companies of 3B Productions and Tessalit – is lead producing. Franco-German broadcaster Arte is also on board.
The original series of Li'l Quinquin, was released as a four-part TV series and single feature-length film - which premiered to rave reviews at Cannes' Directors Fortnight in 2014.
Some 1.4 million viewers watched the series when it was broadcast in France in September 2014.
Dumont and his producers are planning a similar operation for the second series.
"At Berlin we'll be looking to connect with distributors who follow the work of Bruno Dumont and work on pre-TV sales," said Doc & Film chief Daniela Elstner.
"The thing I am really thrilled about is the combination of the TV series and the theatrical film. We have all the contacts on both sides. For the financing it needs to be both. We'll be aiming to find the best partners in each territory. In some it might be more TV driven, in others more theatrical. The idea is to combine both from the beginning, which is a strategy I see Doc & Film adopting more and more in the future."
The director is gearing up to shoot Coincoin And The Extra-humans this summer, for delivery in 2018. Many of the non-professional actors who appeared in the first season are expected to reprise their roles although casting has yet to be locked.
In the meantime, the director is finishing post-production on his musical film Jeannette – following Joan of Arc's journey from peasant child to warrior – which is being tipped for a Cannes premiere.
Upcoming documentaries
Other new upcoming titles on the Doc & Film slate include an untitled new documentary by Nicholas Philibert, the details of which are under wraps.
The work – which is in pre-production – is produced by Paris-based Archipel 35. Elstner will unveil the subject to buyers on a one-on-one basis.
It is also selling Franco-Swiss filmmaker Georges Gachot's Where Are You, João Gilberto?, following the obsessive quest of late German music writer Marc Fischer to connect with the elusive founding father of Bossa Nova, Brazilian musician João Gilberto. The writer committed suicide a week before his book describing his journey, Hobalala, was published.
New dramas
Upcoming drama projects include Nadir Moknèche's Lola Pater about 27-year-old Zino who goes in search of his long-lost father Farid but instead finds a woman called Lola. Tewfik Jallab stars as Zino opposite Fanny Ardant in the role of Lola.
It is also selling Gaël Morel's Catch The Wind, which looks at the manufacturing outsourcing debate, starring Sandrine Bonnaire as a hard-up textile worker who follows her relocated job to a factory Morocco rather than face unemployment.
Berlinale titles
The company is also handling two Berlinale Panorama documentaries Strong Island and Bones Of Contention.