France's highest film awards were handed out at the 42nd annual ceremony in Paris on Friday [24].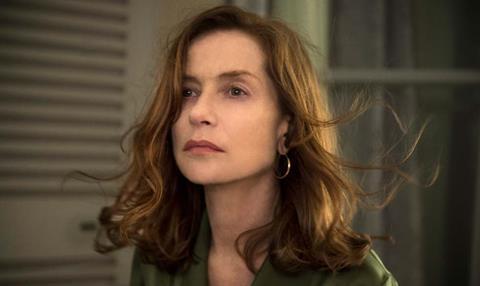 Isabelle Huppert clinched best actress for her performance in Paul Verhoeven's Elle at France's annual César awards at Salle Pleyel in Paris on Friday evening (24), in a 42nd edition marked by strong female stories, newcomers and outsiders.
SCROLL DOWN FOR FULL LIST OF WINNERS
Verhoeven's tale of a tough female company boss who plays a cat-and-mouse psychological game with a rapist also won best film with Spanish filmmaker Pedro Almodovar presenting the award to the Dutch director and the film's producers Saïd Ben Saïd and Michel Merkt.
The director noted Huppert had taken the film to a higher level.
"You added something that I didn't have in mind when I started the project, it came through the collaboration you. Thank you, Isabelle, I adore you."
Huppert was also on hand to accept her award ahead of jetting off to Los Angeles to attend Sunday night's Academy Awards as one of the front-runners in the best actress category alongside Emma Stone and Natalie Portman.
It was her second César for best actress after 16 nominations and a previous win for her performance in Claude Chabrol's crime drama La Cérémonie.
"I sometimes think about the relationship between the interpreter that I am and the role that I play, and I believe that in the case of Ellethe role prevailed over the interpreter," commented Huppert on the way in which this role in particular has put her in spotlight at home and abroad.
Other victors
Another big victor at Friday night's ceremony was the Cannes Caméra d'Or-winning Divines which won three Césars including best first feature for director Houda Benyamina.
Cast members Oulaya Amamra and Déborah Lukumuena won best female newcomer and best actress in a supporting role respectively for their performances as two high-spirited friends eager to move on and out of their tough outer Paris neighbourhood.
Xavier Dolan's It's Only The End Of World also did well, winning best director and editing for Dolan and best actor for Gaspard Ulliel for his performance as dying man who returns home to spend time with his estranged family.
Clooney, political notes
Other highlights included an honorary César for George Clooney who attended the ceremony with wife Amal.
French Oscar winner Jean Dujardin, a friend of Clooney's since appearing in The Monument's Men, presented the US actor and director with the award.
The pair entered into comedy number in which Dujardin mistranslated Clooney's speech into French to deliver a serious message against the hate-mongering tactics of US president Donald Trump.
Ken Loach's acceptance speech for the César for best foreign film for I, Daniel Blake also took on a political tone.
He was absent from the ceremony but in a written note read by his long-time French producer Pascal Caucheteux, the filmmaker called on the French to keep the far-right out of power in upcoming presidential elections in which Marine Le Pen's National Front party is being touted as a potential winner.
"The extreme right succeeds when people feel desperate; we have to restore hope. Hope is lodged in the spirit of resistance, in the sense of social justice as well as in solidarity," he said.
"It's currently up to the French to make a choice, we who have been your friends for so many years hope that in the election to come you will be able to reject the bitterness of the right and support the space offered by the left."
The most political intervention of the night, however, was by director François Ruffin on receiving the award for best documentary for his satire Merci Patron, denouncing the delocalisation of jobs out of France.
The filmmaker announced he was going to run as an independent candidate in Amiens in northern France in general elections in June and also sounded the alarm about the imminent delocalisation of a tumble-dryer factory in the town to Poland and called on outgoing socialist president François Hollande to "move his ass" on the matter in his final days in power.
Full list of winners:
BEST FILM
Elle
BEST ACTRESS
Isabelle Huppert, Elle
BEST ACTOR
Gaspard Ulliel, It's Only The End of The World
BEST SUPPORTING ACTRESS
Déborah Lukumuena, Divines
BEST SUPPORTING ACTOR
James Thierrée, Chocolat
BEST DIRECTOR
Xavier Dolan, It's Only The End of The World
BEST ORIGINAL SCREENPLAY
Solveig Anspach, Jean-Luc Gaget, The Aquatic Effect
BEST ADAPTED SCREENPLAY
Céline Sciamma, My Life As A Courgette
BEST EDITING
Xavier Dolan, It's Only The End Of The World
BEST CINEMATOGRAPHY
Pascal Marti, Frantz
BEST FOREIGN FEATURE
I, Daniel Blake, Ken Loach
BEST DOCUMENTARY
Merci Patron!, Francois Ruffin
BEST ANIMATION
He Who Has Two Souls, Fabrice Luang-Vija (short film)
My Life As A Courgette, Claude Barras
BEST FIRST FEATURE
Divines, Houda Benyamina
BEST FEMALE NEWCOMER
Oulaya Amamra, Divines
BEST MALE NEWCOMER
Niels Schneider, Diamant Noir
BEST ORIGINAL MUSIC
Ibrahim Maalouf, In The Forests Of Siberia
BEST SOUND
Marc Engels, Fred Demolder, Sylvain Rety, Jean-Paul Hurier, L'Odyssee
BEST COSTUME
Anais Romand, La Danseuse
BEST SET DESIGN
Jérémie D Lignol, Chocolat
BEST SHORT FILM
Maman(s), Maimouna Doucouré
Vers La Tendresse, Alice Diop
HONORARY CESAR
George Clooney