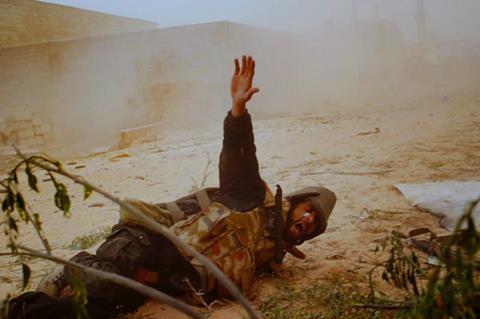 Sao Paulo-based Elo Company is in Ventana Sur selling An Unsung Solider, one of the first projects under its new production push that chronicles the work of Brazilian war photographer André Liohn.
The film, which Elo initially took to MIPCOM, presents an intimate portrait of the winner of the prestigious Robert Capa Gold Medal, whose career has taken him into some of the world's deadliest places at a time when reporters and photographers are at greater risk than ever before of being killed on the job.
Carolina Telles, a former senior executive at Discovery Networks Latin America who joined Elo Company in June to head the development and production team, directs An Unsung Soldier (pictured). Shooting has wrapped in Iraq and Brazil and the film will feature footage from Italy, where Liohn has family.
The original production slate includes Pariah, a true-crime story that Elo Company co-founder CEO Sabrina Nudeliman Wagon and her colleagues are developing as a feature documentary and a fictionalised TV series.
Pariah is based on an article by the investigative journalist collective BRIO, with whom Elo Company has an exclusive deal granting it access to the entire repository of articles.
The pipeline includes animation co-productions with the likes of BIRDO and ex-Disney Brasil executive Beth Carmona, and three TV series. What has encouraged Wagon and her peers as they broaden the company's suite of services from development to distributon and sales is the Brazilian government's renewal this year of the audiovisual law granting roughly $130m (500m Real) in support to Brazilian producers and distributors.
Elo Company's sales slate meanwhile encompasses psychological thriller Davi's Secret, LGBT drama Dear Mom, and Rio Santos.
Historically, the roster has included Alê Abreu's 2016 animated feature Oscar nominee The Boy And The World, the first Latin American Vimeo Original The Space In Between, and local features such as SOS Mulheres ao Mar 2.