The in-demand director is currently editing a new project filmed in the La Guajira desert.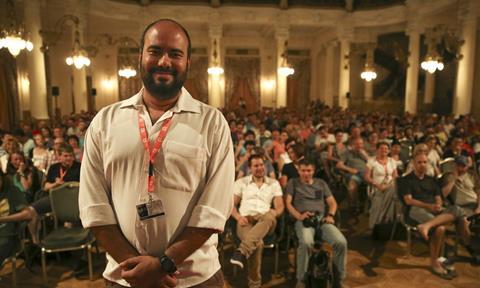 Director Ciro Guerra spoke to Screen about Birds Of Passage, his hotly anticipated follow-up to the Oscar-nominated Embrace Of The Serpent, as well as his upcoming adaptation of J.M Coetzee's Waiting For The Barbarians.
Talking at the Karlovy Vary Film Festival, Guerra said Birds Of Passage, which he co-directed with Cristina Gallego, was "definitely the toughest shoot I've ever had because of the extreme conditions".
The film is shot in the La Guajira desert in northern Columbia and tells the story of an indigenous Wayúu family throughout the smuggling and cannabis boom of the 1970s.
He said: "[The La Guajira desert] is a place where very few films have been shot before, and definitely not a whole feature film.
"It was a major production, we had thousands of extras, a large crew. It's an epic story. We have never attempted something so complex before. It demanded a lot from everyone."
"It's a genre film, a noir, but also a Greek tragedy, a western, it's also a Gabriel Garcia Marquez tale in a way, it's definitely a film that I haven't seen before. We're not trying to re-do anything."
He added that he's in the middle of editing now. "We have a long post-production schedule, hopefully it will be ready next year."
Berlin-based international sales agent Films Boutique has signed on for the project after also working on Embrace.
"I know that several of the distributors who we worked with before want to continue with this film," Guerra adds.
Maria Camila Arias and Jacques Toulemonde wrote the script. The cast is a mixture of professional and non-professional actors, including Natalia Reyes, Carmiña Martínez, José Acosta and non-professional actor José Vicente Cotes.
Waiting For The Barbarians
Guerra confirmed that his adaptation of J.M Coetzee's Waiting For The Barbarians starring Mark Rylance, which was first reported in 2016, is still going ahead.
He said of the film: "That project is still moving forward. Hopefully it will be the first time I work in the English language. I'm open to that because of the possibility of working with great talent and an international scale but for me the most important thing is the source material.
"Coetzee's Waiting For The Barbarians is one of the great novels of the 20th century and there's been a plan to make a film of it for a long time. It's a challenge and a privilege to able to bring it to the big screen. It's planned to shoot in 2018 and should be released in 2019."
Guerra is on the competition jury at the Karlovy Vary International Film Festival, which runs June 30-July 8.