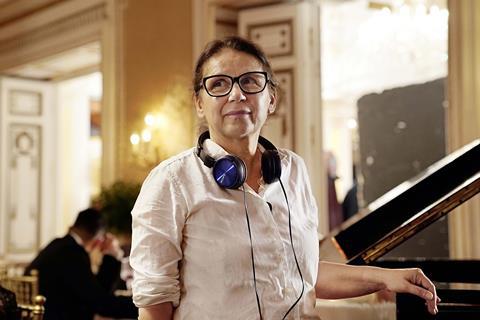 The 17 emerging filmmakers from Hungary, the Czech Republic and Germany, selected for the inaugural Pitch_It@Berlinale , are at the Tallinn Black Nights Film Festival this week for the next stage in the workshop programme that concludes with the filmmakers pitching their projects to an international jury of festival programmers and distributors at the Berlinale in February.
Organised by Germany's Filmakademie Baden-Württemberg with Prague's FAMU, and the Goethe-Institut in Budapest, the filmmakers were chosen by a jury comprised of Hungarian director Ildikó Enyedi, who is a member of the international jury of this year's Black Nights Main Competition, Czech filmmaker Radim Prochazka and Evelin Hust, director of the Goethe-Institut in Budapest.
The programme launched with a producing and pitching workshop in Budapest in July with international experts such as pitching supremo Sibylle Kurz, producers Vicky Miha and Dora Nedeczky, and writer-director Ádám Császi.
The participants then had online training sessions on pitching and producing during September before coming to Tallinn between November 21 and 24 to network with industry professionals attending the festival.
The participants
Hungary's seven participants include Zsuzsi Konrád who is developing her feature debut Lady O Shana And Her Brother, a costume drama set in the magical environment of a vampire castle, while the team of producer Ádám Farkas, screenwriter Attila Veres and director Gábor Holtai are working on the thriller-drama Feel Like Home. Writer director András Kocsányi and producer Éva Török are also participating with Sine Morbo, a satirical black comedy about hospital bureaucracy, which won this year's FilmFestival Cottbus Pickastory Audience Logline Award.
Meanwhile, the Czech Republic has six participants, ranging from producer Kristine Skodová and director Nikola Klinger with their feature documentary Land Of Fire to producer Julie Soffer and FAMU student Jan-Karel Pavlik presenting his graduation short Jubilee.
Germany is represented by the Turkish-born, Berlin-based documentary filmmaker and editor Özlem Sariyildiz with her feature documentary Dear Future, I'm Ready, the team of Hamburg-based producer Julia Cöllen and Chinese queer cinema pioneer Popo Fan with his romantic dramedy Grammatik, and the documentary filmmaker Raphael Schanz with his feature documentary debut Toni and Stein.
Benjamin Rost, one of the workshop's initiators, told Screen that he and media consultant Márk Szilágyi are accompanying the filmmakers in Black Nights and will be guided through the festival by Katriel Schory, a member of this year's Baltic Competition.