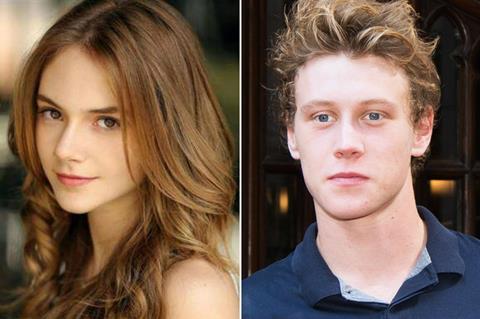 Emilia Jones (Youth, High-Rise) and George MacKay (Pride, Captain Fantastic) are starring in supernatural thriller Nuclear, which is currently shooting in Wales.
The Ffilm Cymru Wales and BFI-backed project is from debut director Catherine Linstrum, whose previous work as a screenwriter includes California Dreamin' and Dreaming Of Joseph Lees. Her short films include Nadger, which was a Bafta Cymru Award-winner.
The film was developed and is being produced through the second edition of Ffilm Cymru Wales's low-budget Cinematic scheme, which is financed by the BFI, using National Lottery funding, S4C and Great Point Media, with additional support from Fields Park Media Partners and Warner Music Supervision.
Previously projects to have gone through the scheme include Craig Roberts' Just Jim and Euros Lyn's The Library Suicides.
Stella Nwimo is producing Nuclear. Linstrum co-wrote the screenplay with David John Newman. It is shooting on location in Snowdonia. Crew include French director of photography Crystel Fournier (Girlhood).
There are two further films through the Cinematic scheme due to due to start production later this year: contemporary Welsh-language horror Cadi from director Lee Haven Jones (Shetland) and producer Roger Williams (Bang), and darkly-comic thriller The Toll, written by Matt Redd, directed by Ryan Hooper, and produced by Western Edge Pictures' Vaughan Sivell (Prevenge).
Mary Burke, BFI Film Fund, senior production and development executive, commented: "Catherine Linstrum and Stella Nwimo are the exciting team behind the genre-bending debut Nuclear. We're happy to be partnering with Ffilm Cymru again to support the strong flow of great work coming out of Wales right now, with Craig Roberts also shooting his sophomore feature Eternal Beauty starring Sally Hawkins and this time last year Rungano Nyoni was turning heads in Cannes with I Am Not A Witch."