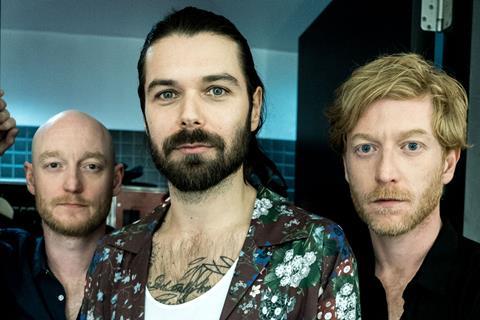 Scottish rock band Biffy Clyro are teaming with Welsh writer-director Jamie Adams on Balance, Not Symmetry which is set to shoot in Glasgow in July.
The band have written and recorded a 12-track album of original material, also called Balance, Not Symmetry, which will be released towards the end of 2018. The band will also tour the album at the same time of the release of the film, which is set for Q1, 2019.
Balance, Not Symmetry is about a US student studying at Glasgow School of Art whose privileged existence is turned upside down after an encounter with a local young street artist.
Adams has written the screenplay in collaboration with Biffy Clyro lead singer Simon Neil, who wrote the new songs at the same time. Each song will be featured in the film. Adams' credits include Black Mountain Poets, which premiered at Edinburgh International Film Festival in 2015, and Wild Honey Pie, which premiered at SXSW this year.
Maggie Montieth, whose credits include Deborah Haywood's Pin Cushion, is producing and financing the project through her two vehicles, Dignity Film Finance and Northcott Films, alongside Adams' Two Flowers and King Pictures.
London based sales outfit AMP International is handling worldwide rights and is introducing the project to buyers in Cannes.
Ahead of the film's shoot, the first song from the new album will be broadcast on an episode of MTV Unplugged with Biffy Clyro 25th May.