EXCLUSIVE: Metrodome to give wide UK release to period drama held up by legal disputes.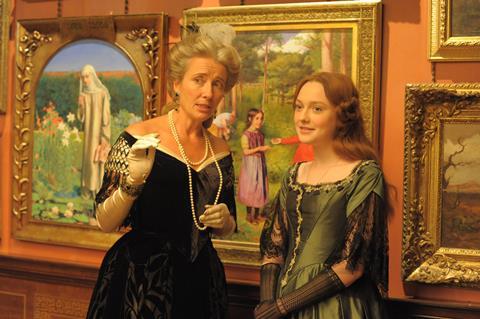 The long-running legal disputes holding back Emma Thompson's period-drama Effie Gray would seem to be finally over, as the film is due for UK, US and international release this autumn.
UK distributor Metrodome has struck a deal for a wide release on October 10 while producers Donald Rosenfeld and Andreas Roald expect a November release in the US.
Emma Thompson wrote and stars in the long-awaited period drama about the mysterious relationship between Victorian art critic John Ruskin and his teenage bride Effie Gray.
The film's cast includes Dakota Fanning as Effie, Thompson's husband Greg Wise as Ruskin, Tom Sturridge as painter Everett Millais as well as David Suchet, Derek Jacobi, Robbie Coltrane, James Fox and Claudia Cardinale.
The UK deal was negotiated by Metrodome's head of acquisitions Giles Edwards and Norwegian financier Roald of Sovereign Films.
Effie is based on the romantic life of Euphemia "Effie" Gray, who was married first to Ruskin and then pre-Raphaelite painter John Everett Millais. The annulment of her first marriage to Ruskin, which was never consummated, caused a scandal at the time.
Edwards described Thompson's script as "deeply compassionate, typically erudite and wholly heartbreaking".
The period-drama was completed 18 months ago but became bogged down in two separate legal disputes with writers who claimed the film drew too liberally on their existing works.
"What a road you travel to make these movies," US producer Rosenfeld told ScreenDaily. "We were ready to release this film 18 months ago. The lawsuits cost $1m but we won them both."
The film might have screened at Cannes in 2013 as well as US festivals, added Rosenfeld, the former president of Merchant Ivory Productions who was an executive producer on Terence Malick's The Tree of Life and upcoming documentary Voyage of Time.
"A number of festivals called and were interested," said Rosenfeld about Effie Gray. "But we decided not to open with them. Cannes would have been special and they wanted it at the time of its first scheduled release but it was still tied up in the legal issues this May."
The film's strong crew includes DoP Andrew Dunn, costume designer Ruth Myers and composer Paul Cantelon.
The release means the UK will get two high profile films about Victorian painters in quick succession, with Mike Leigh's Cannes hit Mr. Turner - about the painter JMW Turner - also due for an October release through eOne.
Leigh was one a number of industry and artists to attend private London and New York screenings of Effie Gray over the summer.