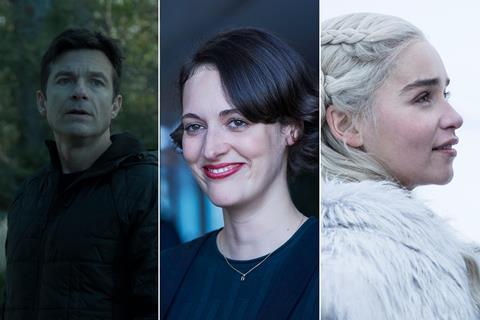 Last year, Netflix became the first streaming service to lead the Emmy nominations field on 112 nods compared to the 108 for long-time Emmy champ HBO. This year, Netflix was tipped by some to beat HBO's nominations record of 126 set in 2015 but thanks largely to Game Of Thrones, the premium cable network regained its crown, with an impressive 137 nods to Netflix's 117.
The streamer could still unseat its Emmy rival when the awards are handed out in September – last year the two companies tied on 23 wins each – but the odds now appear to be in HBO's favour, at least for one more year.
Game's record tally of 32 nods, including ten for actors alone, beat a record set by broadcast drama NYPD Blue back in 1994 and puts the just-concluded blockbuster on course to beat its own single-year record of 12 wins, achieved in 2015 and 2016.
HBO was also boosted, though, by limited series Chernobyl, co-produced by HBO with Sky Atlantic, which grabbed 19 nominations after its late entry into the Emmy field, and comedy series Barry, earning 17 nominations for its second season. Netflix's top ranking show was limited series When They See Us on 16 nominations.
Streamers' gain, cable's loss?
In spite of the once-in-a-primetime phenomenon of Game Of Thrones, Netflix still increased its nomination tally. And rival streamer Amazon made a huge gain, clocking up 47 nominations compared to last year's 22. Hulu, on the other hand, was down from 27 to 20.
Among other cable network contenders, FX saw its total slide from 50 last year to 32 this time around, and Showtime had to be content with 18 nods compared to last year's 21. Leading broadcast network NBC was down from 78 to 58.
Netflix wants a trophy
Netflix could regain some sparkle by taking one of the coveted best series Emmys – to date it has only won two TV movie statuettes, both for Black Mirror episodes – though it faces tough competition. In the drama series category, the streamer is in contention with first-time nominees Ozark and Bodyguard, but both will be longshots running against Game Of Thrones and its most likely challenger, Killing Eve. In the best comedy series category, Netflix's Russian Doll will be up against Barry, HBO's final-season favourite Veep, and Amazon's Fleabag and The Marvelous Mrs Maisel. Netflix's best shot could be in the limited series group, where When They See Us could pose a challenge to Chernobyl and showbiz bio-series Fosse/Verdon.
Fresh faces and missing persons
Television Academy voters are infamous for favouring long-running shows with multiple awards already in their cabinets, a preference that often limits the appeal of the Emmy awards ceremony TV broadcast. This year, however, past winners like The Americans, Big Little Lies, The Crown, Stranger Things, and Westworld had either ended or fell outside the eligibility period, leaving room for five series – Ozark, Pose, Succession, Bodyguard, and Killing Eve – to earn their first best drama series nods, making the category a far more intriguing proposition.
There were surprise omissions from the nominations list as well, of course, some of which will reduce the glamour quotient for the September ceremony show. Emmy voters often respond to big screen names making TV debuts, so the absence of Homecoming star Julia Roberts stands out. As does the lack of a nod for multiple Emmy winner Julianna Margulies, from The Hot Zone. Bodyguard lead Richard Madden did not make the cut in spite of his series' strong showing. And A Very English Scandal was a slightly surprising omission from the best limited series category.
TV viewers might also wonder, come September, why The Handmaid's Tale got 11 nominations – including guest acting nods for Bradley Whitford and Cherry Jones – but does not appear in the best drama series category (which it won in 2017). It comes down to the fact that while the series' third season started too late to qualify for this year's race, three episodes from the second season aired outside last year's qualifying dates, making them eligible this year for individual achievement categories only.
Diverse possibilities, international flavour
The Emmys have mostly escaped the kind of diversity backlash that has plagued the Oscars in recent years, but minority representation in the nominations list comes down mainly to a handful of projects. Besides its limited series nod, When They See Us earned writing recognition for Ava DuVernay and Michael Starrbury and a big showing in acting categories: Aunjanue Ellis, Niecy Nash and Jharrel Jerome all got lead acting nominations and the show provided half of the limited series supporting actor contenders and a third of the supporting actress names. Pose gave the LGBTQ community a presence in drama categories with its six nominations, including a lead actor nod for Billy Porter.
International shows and talents, most of them from the UK, are heavily represented in this year's nominations list, thanks, perhaps, to the globalising influence of the industry's increasingly powerful streaming players. In addition to the drama series nod for Bodyguard and TV movie recognition for Brexit, Killing Eve landed nine nods, including acting mentions for Sandra Oh, Jodie Comer ,and Fiona Show. And Fleabag, which did not earn a single Emmy nod for its first season, scored 11 for the second, among them a best comedy series nomination and acting recognition for Phoebe Waller-Bridge and Olivia Coleman.
Almost all of the nominated Game Of Thrones actors are British, and there were also acting nods for the Chernobyl trio of Jared Harris, Stellan Skarsgard, and Emily Watson. Half of the nominated drama series writers – namely Bodyguard's Jed Mercurio, Killing Eve's Emerald Fennell, and Succession's Jesse Armstrong are from the UK, and Waller-Bridge flies the flag among the comedy writers.
Game of streamers
Whatever glory cable networks and existing streamers have achieved with this year's nominations, they should probably enjoy it while they can. Because this time next year the Emmy race could be much more competitive, as original scripted series from new streaming platforms Disney+, Apple TV+ and HBO Max enter the field. It may be early to pick likely contenders, but series like Disney's Star Wars spin-off The Mandalorian, Apple's starry comedy drama The Morning Show and sci-fi drama For All Mankind, and HBO Max's Dune: The Sisterhood look likely to be part of the awards conversation. And their platforms will probably be ready to spend lavishly on promotion, making the business of awards season campaigning considerably more expensive than it already is.