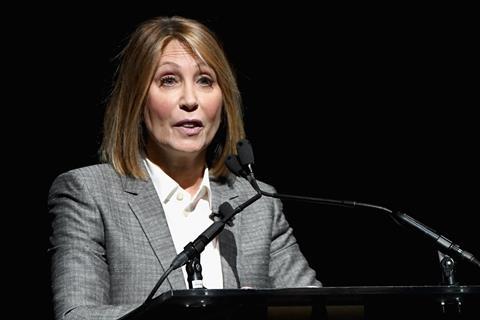 An emotional Stacey Snider, chairman and CEO of 20th Century Fox, addressed the looming Disney merger at the studio's Thursday morning (April 26) CinemaCon presentation, appearing to choke up as she told attendees, "In partnership we're all in this together."
An overwhelming sense of nostalgia infused the session as Snider gave a potted history of the studio, reaffirmed the its commitment to the theatrical experience and story-telling, and cued up a reel of the most iconic hits of Twentieth Century Fox's 85-year history.
"I have no more insight into this transaction than you do," Snider said of the impending $52.4bn merger, "but I'm holding on to the very basics that helped make [The Greatest] Showman a hit. Let's stay dedicated to the future of cinema and passionate about the films to come."
The session was bookmarked with music. A dance troupe introduced the presentation, before the session ended with a live band recital of the famous Fox music.
The session included footage from Bohemian Rhapsody (November 2) in which Mr. Robot star Rami Malek plays the late Queen frontman Freddie Mercury as he joins the band and helps guide them band to worldwide acclaim. Malek took to the stage and said, "When I got this role I thought, 'This could be a career-defining performance.' About two minutes late I thought, 'This could be a career killer.'
British producer Graham King has been working on the film for close to a decade – at one time Sacha Baron Cohen was attached to star – and said Malek's performance was "up there with one of the best I've ever seen."
There was intense footage from Steve McQueen's heist thriller Widows (November 16) starring Viola Davis, Michelle Rodriguez, Elizabeth Debicki, Cynthia Erivo, Colin Farrell and Liam Neeson, as well as a look at Shane Black's The Predator reboot (September 14).
Alita: Battle Angel (December 21) producer Jon Landau and director Robert Rodriguez talked about their performance-capture female cyborg sci-fi starring Rosa Salazar, Christoph Waltz and Mahershala Ali. James Cameron had been planning to direct Alita for years before he chose Avatar and Rodiguez praised his generous guidance. "It has a strong, relatable female protagonist," Rodriguez said before cueing up action footage. "Something we've always tried to do in our films."
Amandla Stenberg came on to discuss her role with director George Tillman Jr in the coming-of-age drama The Hate U Give (autumn), and also stars in August 3 release and YA adaptation The Darkest Minds. There was footage too from crime ensemble Bad Times At The El Royale (October 5) with Jeff Bridges, Jon Hamm, Cynthia Erivo, Dakota Johnson, and Chris Hemsworth.
The session kicked off with a trailer for Deadpool 2 (May 18). That film's star Ryan Reynolds took part in an entertaining taped intro shot in a hotel room with Hugh Jackman in a bathrobe and a bedraggled Fox's head of domestic distribution Chris Aronson in a messed-up The Greatest Showman costume.
Aronson, a flamboyant executive who never misses the chance to entertain at CinemaCon, hobbled on to stage in the garb and announced Fox had licensed Kino Industries' CtrlMovie technology for the Studio's upcoming film Choose Your Own Adventure based on the 1980s book craze. The technology allows audiences to make real-time decisions on their smart phones to choose what characters do next.
Aronson said innovation had always been a cornerstone of the Fox brand, adding: "This interactive experience, and the passionate, creative team behind this project, allow the true spirit of the beloved book series to fall into the hands of fans around the world."
Returning to Snider, the studio chief said, "The great moments that make up my life come from moments I share with other people.. and among those great memories are moments that taught me about people and places I never experienced .. and some of those moments came from the movies."
She hailed the $420.8m global success of The Greatest Showman before returning to her theme of the studio's commitment to original films at every budget level. "We put our chips on vision." Fox releases generated $3.9bn worldwide in 2017 and the studio led the field with 27 Oscar nominations.