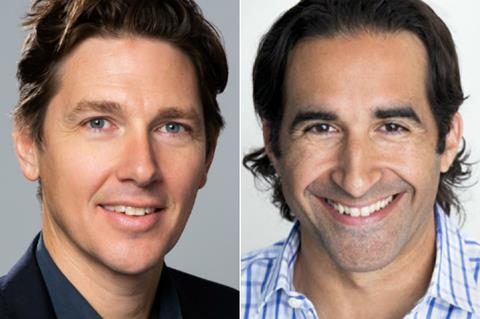 Endeavor Content has merged its film advisory group led by Alexis Garcia and the international sales team lead by Alex Walton to form Endeavor Content Film Group.
Garcia and Walton will oversee a one-stop shop for talent, financing and production partners that enables the executives to work even more closely together on film projects from inception through sales and distribution.
Speaking to Screen on Wednesday (October 28), the executives – who are named EVPs, film, advisory, Endeavor Content – said the move was a natural dovetailing of operations.
"It creates a very different kind of company," said Walton.
"A culture with a lot of different skill sets all within the film environment, and it gives us a very broad sales group with the ability to have strategy, a point of view… that will benefit our financing and production partners, and the talent involved."
Garcia added, "The evolution is that we're all having the same conversation about projects but the difference is the various paths aren't siloed. In the past, if there had been an opportunity for something to have an international sales component, then we'd bring in Bloom or the old Endeavor Content international group only at that stage, only for that specific part of the conversation.
"Now we're evaluating projects together. The goal is that in the future there could be somebody who came from the international sales side who could represent a financier and help to package and raise financing for a project, just as much as it could be somebody who came from the film advisory side who could help drive a sale to a UK distributor."
Heading into the virtual AFM, which kicks off on November 9, Walton said, "We're balancing up a number of things at the minute and it is very eclectic… We're happiest at a market with a range of content that speaks to different buyers because it gives you the ability to have a little bit more variety.
"We're looking at genre, we're looking at a coming-of-age story based on a very popular piece of music that I think will be amazing…. Ultimately we always look for things coming from that independent space that are marketable locally."
Garcia and Walton have worked closely together for years. Garcia introduced Walton to Ken Kao, the producer, head of Waypoint Entertainment and Garmin heir who backed sales agency Bloom and launched the venture with Walton six years ago.
Endeavor Content acquired a stake in Bloom in 2017 and when it assumed full ownership a year later and named Walton EVP of international film sales and distribution, Kao sold his stake.
Endeavor Content, run by Graham Taylor and Chris Rice, has financed or co-financed 19 films in the last three years and has 75 projects on the in-house development slate, in addition to each of the projects the advisory group helps to get made each year.