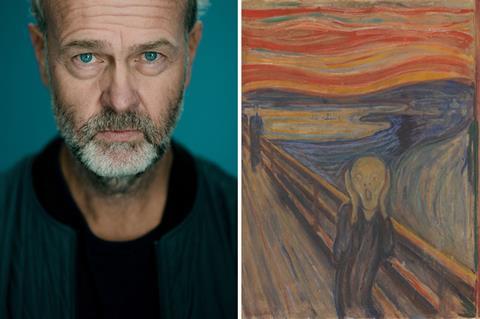 Norwegian director Erik Poppe's next film will be a drama examining Edvard Munch's creation of one of the world's most famous paintings, The Scream.
The Norwegian artist created the painting when he was 30 years old, in 1893, living in Berlin. "It's one of the most iconic paintings in the history of art, and this film is the dramatic story of the months prior to him painting it," Poppe told Screen.
Poppe noted that The Guardian published an article in January calling The Scream "the masterpiece of our times," and Munch exhibitions have been setting attendance records from Japan to New York.
The director said he's been wanting to make a film about Munch since before his last two hits, 2017 Oscar submission The King's Choice and Berlinale 2018 Competition title U-July 22, and that he and the producers decided to realise it when they found this story through their research.
Poppe is writing the script now with frequent collaborator Harald Rosenløw-Eeg. The story is likely to be set across Berlin, Paris and Oslo The budget could be over $10m for a shoot planned for 2020 at the earliest.
Oslo-based Paradox, founded by Poppe with producers Finn Gjerdrum and Stein B. Kvae, will produce and is currently looking for German and French partners. The film is the first announced by Paradox since its acquisition by SF Studios was confirmed in December 2018.
Poppe said the film won't be a typical biopic, as it only focuses on a few months of Munch's life: "It's not the story of his whole life, it's a story about a moment in his life and a moment in the history of art."
He added: "It's not only a story for art lovers, he represents something relevant today, how far someone is willing to go for something they believe in. It's not a romanticised story, it's an honest story."
The team plan to have a first draft of the script ready for Cannes. No cast has been attached yet.
Kvae noted that Paradox and SF share the vision for telling a story with a Scandinavian angle with a lot of international appeal. "It's a film that will have strong national interest (in Norway) but also very much a story that has international ambitions and real international appeal."
Poppe's credits also include Troubled Water, 1000 Times Good Night and Hawaii, Oslo. Poppe will also take part in the EFM Horizon panel Smarter Production today (Monday 111) at 1400 at Berliner Freiheit.