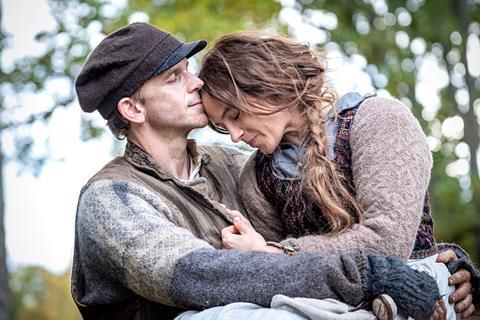 Haugesund's New Nordic Films industry event will present 17 upcoming features in its annual works in progress showcase.
The most high-profile film to show first footage will be Erik Poppe's The Emigrants, produced by SF Studios and the latest adaptation of the famed Vilhelm Moberg novels about a Swedish family that moves to America in the 1850s. The cast includes Lisa Carlehed, Gustaf Skarsgård, Tove Lo and Sofia Helin.
Further projects include Sagres, a Sweden-Finland-Belgium co-production sold by Totem Films. The debut feature from Stockholm-based Lovisa Siren tells the story of two sisters and one teenage daughter who take a road trip across six countries.
Also selected is Tuva Novotny's Diorama, a Nordisk-produced drama starring Pia Tjelta and David Dencik, exploring themes of togetherness and monogamy. It is the Swedish actress's third feature as a director after Blindspot and Britt-Marie Was Here.
Aku Louhimes from Finland will present two very different projects in post, the action thriller Omerta 6/12 and intimate romantic drama The Wait.
Of the 19 projects in Haugesund's Nordic Co-Production Market, Mads Hedegaard's Stone Age drama/thriller Stranger has already attracted significant buzz after a pitch at the digital Goteborg in January. The new film, set to shoot in 2022 from Copenhagen's rising powerhouse MOTOR, is about Europe's greatest culture clash, when a family of early farmers encounters a tribe of hunter-gatherers.
From Iceland, director Asthildur Kjartansdóttir and producer Anna Gudbjörg Magnusdottir will present The Mountain, about a family planning a holiday to watch a comet.
Another Danish title in the co-pro market is Acts Of Love, from director Jeppe Ronde (Bridgend) and producer Julie Friis Walenciak (I Love You Miss You I Hope I See You Before I Die), about a brother and sister trying to resolve their childhood trauma.
From Finland, the prolific female-centric company Tuffi Films will pitch the latest from Selma Vilhunen, Four Little Adults, about a couple exploring a polyamorous relationship.
The market will offer closed industry screenings of films including Charlotte Sieling's big-budget historical biopic Margrete – Queen Of The North starring Trine Dyrholm; the late Arni Olafur Asgeirsson's final film Wolka, an Iceland-Poland co-production; and Jens Sjögren's football story I Am Zlatan. The market screenings will also include Sundance or Cannes hits such as Pleasure, The Innocents, The Gravedigger's Wife, Clara Sola and Compartment No. 6.
New Nordic Films will run as a hybrid event again for 2021 (from Aug 24-27), as it did in 2020. Confirmed attendees either online or on site will include Sundance programmer Heidi Zwicker, Lorena Amaral of WIDE, The Match Factory's Caitlin Smith, Seattle's Beth Barrett, Marjorie Bendeck of Connecting Cottbus, Tribeca's Cara Cusumano, Sergio Fant of the Berlinale, Natacha Kaganski of Wild Bunch, Bankside's Sophie Green, Ira von Gienanth of Prokino, Lucie Desquiens of Charades, and Christine Eloy of Europa Distribution.