The 28 EU states recorded grosses of $8.4bn in 2015, says a report from the European Audiovisual Observatory.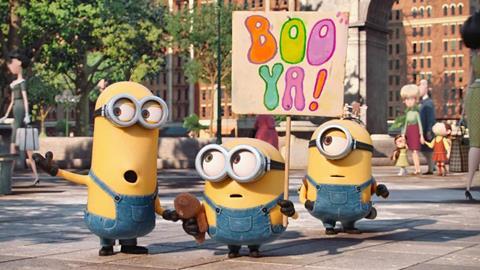 According to data published by the European Audiovisual Observatory, the 28 EU Member States recorded combined cinema grosses of $8.4bn (€7.3bn) in 2015.
This represents a 16% increase on 2014, and is the highest level on record (not adjusted for inflation).
Admissions increased to 976 million, a 7.4% year-on-year increase, the second-highest level in the past 10 years behind 2009, when Avatar bolstered figures.
The pan-European average ticket price was an estimated $8.6 (€7.5), up from $8 (€7) in 2014, a 7% increase, which will have contributed to the elevated box-office figure.
Studio titles
Across the EU, growth was driven largely by the strong performances of US studio titles, which accounted for 18 of the top 20 films across the year and had an overall market share of 64%, only slightly up on 2014's 62.3%.
Star Wars: The Force Awakens topped the chart in terms of admissions (39.8m), while Universal Pictures' animation Minions (39.5m) was second, and Sony Pictures' latest Bond outing Spectre (37.9m) came third. Rounding out the top five were Jurassic World with 30.4m admissions and Fifty Shades Of Grey with 27.3m admissions.
Four of the top five films sold more than 30m tickets, a marked increase on both 2013 and 2014 when not a single film crossed that threshhold.
Nine of the top 10 titles were based on existing properties.
Top 20 films in EU in 2015 by admissions
Star Wars: The Force Awakens 39,791,061
Minions 39,429,207
Spectre 37,866,125
Jurassic World 30,383,250
Fifty Shades Of Grey 27,254,619
Furious Seven 26,861,698
Inside Out 26,798,394
Avengers: Age Of Ultron 22,320,675
The Hunger Games: Mockingjay - Part 2 17,019,151
Hotel Transylvania 2 15,010,178
The Martian 13,674,245
American Sniper 12,494,177
Mission Impossible - Rogue Nation 11,790,016
Cinderella 11,620,306
Big Hero 6 9,594,697
Home 9,487,157
Taken 3 8,937,358
Fack Ju Gothe 2 8,640,137
The Good Dinosaur 8,497,787
Mad Max: Fury Road 8,472,489
EU market share drops
Admissions for European films were at a five-year low in 2015. Only two European titles made the top 20 films by admissions (French production Taken 3 with 8.9 million and Fack Ju Gohte 2 from Germany with 8.6 million). Overall, market share for European films dropped from 33.5% to 26.1% in 2015.
Several territories, however, did record a strong showing for local films, including France (35.2%), Denmark (29.8%), Finland (29.9%) and Germany (27.5%).
Boosted by UK-qualifying titles such as Star Wars: The Force Awakens and Spectre, the UK's share for local films was up to 44.5%, making it the highest across the EU. UK independent films (those without US studio backing) accounted for 10.6%.
Top 20 European films in EU in 2015 by admissions
Spectre 37,866,125
Taken 3 8,937,358
Fack Ju Gothe 2 8,640,137
Kingsman: The Secret Service 7,337,579
Shaun The Sheep Movie 6,568,812
Honig Im Kopf 6,549,,967
The Theory Of Everything 6,517,084
Ocho Apellidos Catalanes 5,134,311
Paddington 4,802,545
Les Nouvelles Aventures of Aladin 4,377,528
Les Profs 2 3,494,230
The Little Prince 3,492,725
The Second Best Exotic Marigold Hotel 3,123,327
Papa Ou Maman 3,038,717
Legend 2,896,794
Listy Do M. 2 2,874,420
Er Ist Wieder Da 2,712,179
Pourquoi J'ai Pas Mange Mon Pere 2,478,630
Babysitting 2 2,398,519
Qu'est-ce Qu'on A Fait Au Bon Dieu? 2,381,641
US investment
The market share of European films produced in Europe with US investment grew significantly last year, rising from 0.4% to 7.3%, with titles including Kingsman: The Secret Service and Spectre performing well.
Elsewhere, the number of European theatrical films produced in the EU grew from 1593 to 1643 year-on-year: 69% of those were fiction films, while 31% were documentaries. Co-productions accounted for 24% of the total.
The data collected in the report was gathered in collaboration with the European Film Agency Research Network.