Geo-blocking and territoriality were high on the agenda when European Commissioner Andrus Ansip met with members of the European Parliament's Committee on Culture and Education for an ¨exchange of views¨ in Strasbourg.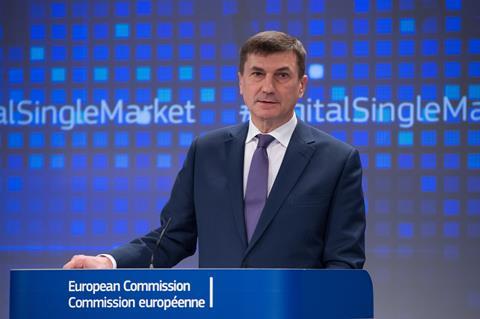 During the 90-minute grilling on Monday evening (April 27), Ansip repeatedly detailed his plans for copyright reform as part of the European Commission's Digital Single Market Strategy to be unveiled in Brussels next week.
¨I would like to ask for cross-border access to the content and portability of the content, but it does not mean that we are wanting to destroy this principle of territoriality,¨ he explained.
¨It does not mean that after this reform there will only be pan-European licenses. If, for example, in a smaller Member State, film producers are expecting that the interest to buy those rights of the films is only in the neighbouring Member States, this will be acceptable. There is no need to sell pan-European licenses, no need to buy pan-European licenses.
¨So, I'm in favour of the principle of territoriality, but I'm not supporting absolute territorial exclusivity."
Release windows
Asked by one MEP whether the proposed copyright reform would have any impact on the distribution chronology for films, Ansip stressed: ¨I didn't even think about changing release windows, I haven't even thought about any time limits. The DSM Strategy isn't planning to change this system.¨
He suggested that a film would first be released in the cinemas, then on DVD, ¨but then when it goes on video-on-demand, I would like to ask for cross-border access to the content".
¨Our creators are losing a lot of money because of all of this geo-blocking,¨ Ansip claimed. ¨Today, we have a lose-lose situation, but I want to create a win-win situation for the creators.¨
No concrete timetable
He did not have a concrete timetable yet in place for when geo-blocking would be abolished, but observed that ¨it will take time and there is no single form which will solve all of the problems. But our aim has to be very clear.¨
¨Our discussions in the Commission go much further than copyright,¨ Ansip added. ¨We are reflecting on how Europe's creative and cultural sectors can become flagships for jobs, growth, and freedom of expression in the digital world.
¨The Commission wants to promote culture as a catalyst for innovation to maximise its contribution to jobs and growth, particularly among the young, and to promote cultural diversity.¨
MEP report in plenum
The meeting with Ansip was then followed some two hours later - just before 11pm - by Polish MEP Bogdan Brunon Wenta presenting his report on European film in the digital age to a handful of colleagues in the plenum ahead of today's voting in Strasbourg.
Speaking on behalf of the European Commission, Irish Commissioner Phil Hogan, who is responsible for Agriculture and Rural Development, welcomed the Wenta report and its analysis of the current state of play in the European film sector.
Referring to the stakeholder dialogue launched within the European Film Forum ¨whose main objective is bridge the gap between European films and their audiences¨, he revealed that a major public event will be held in Brussels in the last quarter of 2016 to draw conclusions from the roundtables, workshops and other events being held under the auspices of the European Film Forum over the next 12 months.
The European Film Forum kicked off last February when the Berlinale's traditional MEDIA information day was brought under the Forum's umbrella and Digital Economy and Society Commissioner Günther Oettinger made his first public appearance before the European film industry.
Oettinger will open another edition of the European Film Forum during next month's Cannes Film Festival.
Discussion there will centre on the impact digital technology is having on the European film industry and its promotion within the EU as well as on the strategies necessary to improve and boost the export of European films worldwide.
EURO BRIEFS
Critics' Week filmmaker in new EFP initiative
German filmmaker Patrick Vollrath, whose graduation film Everything Will Be OK (Alles wird gut) from the Vienna Film Academy was selected for the Critics' Week short film programme in Cannes, is one of ten young European directors who will be participating in a new European Film Promotion (EFP) initiative.
Called Future Frames, the new venture will be launched by EFP at this year's 50th Karlovy Vary Film Festival (July 3-11).
The filmmakers and their films - all Czech premieres - will be presented to the general public, press and industry during the festival's busiest period on the first weekend - from July 5-7 - in order to create a greater awareness for new, ground-breaking cinema and the promising directorial talent behind it.
The line-up of this first showcase of up-and-coming directors includes:
* Greece's Konstantina Kotzamani whose Washingtonia had its world premiere in the Berlinale Shorts in February 2014, and was awarded the Hellenic Film Academy's award for Best Short Film 2014 and the European Film Academy's Short Film Award in Ghent last October, among other distinctions.
* Sweden's Jerry Carlsson's All We Share, which screened at festivals as diverse as Locarno, Lübeck, Gotherburg, Kyiv and Turkey's Pink Life QueerFest, won the Best Short Film/Next Nordic Generation Award in Haugesund last summer.
* Irishman James Fitzgerald's Skunky Dog from the Dún Laoghaire Institute of Art, Design and Technology (IADT) premiered at last year's Galway's Film Fleadh and has won several awards at festivals around Ireland, including most recently the Irish Regional Royal Television Society Award for Best Drama.
Future Frames is being organised in association with the Karlovy Vary International Film Festival and with financial support from Creative Europe's MEDIA sub-programme and the EFP member organisations.
The complete list of filmmakers and films
Patrick Vollrath - Everything Will Be OK (Vienna Film Academy, Austria)
Konstantina Kotzamani - Washingtonia (Aristotle University of Thessaloniki, Greece)
Jerry Carlsson - All We Share (Sweden)
James Fitzgerald's Skunky Dog (IADT, Ireland)
Raphael Crombez - Perdition Country (LUCA School of Arts, Belgium)
Ondrej Hudecek - Peacock (FAMU, Czech Republic)
Mátyás Szabó - Border (Budapest University of Drama and Film, Hungary)
Halfdan Ullmann Tondel - Bird Hearts (Westerdals Film & TV, Norway)
Martina Buchelová - Green Line (Bratislava Academy of Performing Arts, Slovak Repubic)
Moira Pitteloud - The Offer (HEAD Geneva, Switzerland)
Prior to this new initiative, EFP and Karlovy Vary had collaborated for 18 years on showcasing first and second-time European directors as part of its Europe Now! spotlight. (ends)