Speculation builds over the future of Luc Besson's film and TV company.
Shares in Luc Besson's EuropaCorp came under renewed pressure on Thursday amid growing speculation about the company's future in the wake of the lacklustre box office performance of its big budget sci-fi picture Valerian And The City Of A Thousand Planets.
The stock price fell 28% between August 31 to Sept 6, closing 8.76% lower at $2.75 (€2.29) by the end of trading on the Paris bourse on Wednesday. The shares were trading flat at 11.20 GMT on Thursday, having dipped -1.31% to $2.71 (€2.26) in light trade earlier on in the day.
The drop continues a downward trend that began with the release of Valerian at the end of July, when the share price slipped 8% to around $3.50 after Valerian failed to light up the box office in the US, where it kicked off the global release on July 21.
It has been languishing around this level for most of the summer but the company's announcement on Monday (Sept 4) that it had terminated the contract of deputy CEO Edouard de Vésinne with immediate effect alongside a 78% slump in the China box office for Valerian in its second weekend on release there has prompted a fresh share price slide.
EuropaCorp said in a statement that de Vésinne was leaving to focus on his TV production house Incognita, the running of which was incompatible with managerial duties as deputy CEO, adding that the two companies would continue to work together.
A company source has re-confirmed this to be true but a number of media outlets have linked the move with the poor performance of Valerian and the departure has reignited speculation about the company's future.
The Valerian factor
Besson's hopes that Valerian And The City Of A Thousand Planets would be the first instalment in a lucrative, global franchise – – inspired by the popular graphic novel series of French writer Pierre Christin and artist Jean-Claude Mézieres - now seem dashed.
Although the film has topped the international box office chart intermittently in recent weeks – grossing $171m internationally and $213 worldwide on a $180m production budget - its performance to date is far below EuropaCorp's last big international hit Lucy, which generated $463m on a $40m production budget.
China was regarded as the last big territory that could give a major boost to the international gross. After a promising opening week, during which the film grossed more than $50m, the release appears to have petered out.
At home in France, the film has drawn some 3.8m spectators making it the third most successful release of 2017 so far but this will not be enough to turn around its overall global performance.
Prior to its release, Besson said a poorer-than-expected box office for Valerian would not bring down EuropaCorp financially. The Paris-based studio's financial exposure to the production after equity financing and foreign sales is 10% of the budget.
Nonetheless it was regarded as a key plank of the company's longer term strategy.
Media and entertainment analysts are increasingly questioning how EuropaCorp will plug record company losses of $136m (€119.9m) for the 2016-17 financial year, attributed in part to the poor performance of its English-language slate including titles 9 Lives, Shut In, Miss Sloane and The Circle.
When the figures were released in July, EuropaCorp said it was reconfiguring its development and production slate to focus on core strengths of action and sci-fi genre pictures as well as projects written and directed by Besson. This approach has yet to convince market pundits.
On Tuesday, leading Paris stockbroker Gilbert Dupont lowered its recommendation for EuropaCorp stock from "buy" to "lighten".
It noted that EuropaCorp's net assets now stood at $115m (€96.7m) while its consolidated net debt was $320m (€267.5m) and warned that the company could be forced down the recapitalisation route.
It suggested that long-time Chinese collaborator Fundamental Films – which already owns a 27% stake in EuropaCorp - would be an obvious "provider of cash".
"Fundamental could again reinforce the capital without a discount rate as was the case in the increase in capital reserves in September 2016 but if it refuses, EuropaCorp will probably have to go to the market which could mean a significant discount rate".
Rumours that EuropaCorp could be sold off, as a whole or in parts, have also re-surfaced.
Alongside Fundamental, Mediawan, the media and entertainment-focused fund set up by French billionaire tech entrepreneurs Xavier Niel, Matthieu Pigasse and Pierre-Antoine Capton, is also cited a potential suitor.
EuropaCorp has never commented on whether it is for sale or not.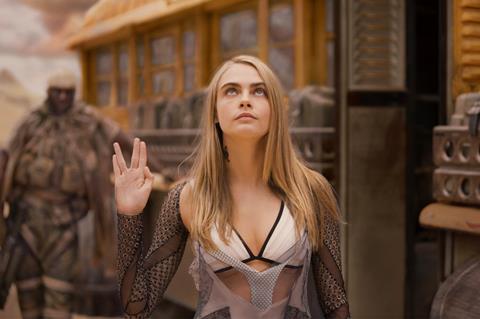 Besson pushing on with next film
Besson – for whom Valerian was a passion project – has not commented publicly on the film's overall international box office performance to date.
After spending the summer travelling the world to help launch the picture alongside its co-stars Dane DeHaan and Cara Delevingne, company sources say he is "actively prepping his next film" but did not give details.
On Tuesday, the film-maker posted a picture of himself on Instagram welcoming the final 120 candidates vying for one of the 60 places at the free film school he launched at the Cité de Cinema studio complex he spearheaded on the outskirts of Paris.
TIFF presence
EuropaCorp will be at TIFF this week with a lighter-than-usual, pre-announced international sales slate, featuring just one English-language title, Thomas Vinterburg's stricken nuclear submarine drama Kursk starring Matthias Schoenaerts and Colin Firth, which is in post-production.
The rest of the slate is French-language and comprises Taxi 5, Benoît Jacquot's Isabelle Huppert-starring thriller Eva, corporate fraud drama Carbon, boxing drama Sparring as well as comedies Coexist and I Feel Better.
French media pundits have suggested that Taxi 5 – a reboot of the hit franchise now starring popular comic actors Franck Gastambide and Malik Bentalha – could be a saviour for the company. The film has already done "robust pre-sales", according to company sources. Other new projects are due to be announced soon, they add.
The future of the Valerian franchise, however, remains unclear. Besson has told journalists that he has already written a second instalment, and is working on the screenplay for a third one. But there is no word as yet on whether he will try to get them green-lit.