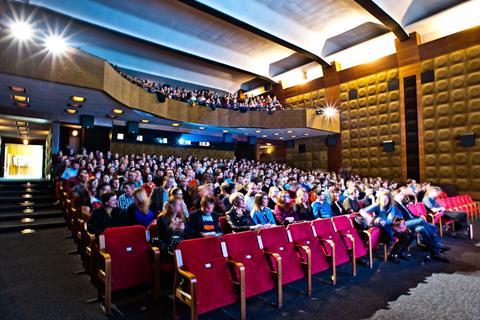 The Brussels-based International Union of Cinemas (UNIC) has published its annual report, showing a 2.5% increase in total admissions in Europe in 2017 compared to 2016.
The report examines key cinema trends across the 37 territories represented by the association. It showed 2017 figures of 1.3 billion admissions and €8.6 billion in box office revenues, accounting for a quarter of the global theatrical film market.
For the 28 EU member states, there was a 0.6% decrease in admissions and a 0.5% decrease year-on-year in cinema revenue to €7 billion.
2017 was a strong year for non-EU territory Russia, which surpassed 212 million admissions for the first time, becoming the largest UNIC territory.
Box-office revenue in the market increased by 9.5%, fuelled by films such as Russia-US co-production Posledniy Bogatyr, the second-highest grossing film of the year in Russia.
It was also a successful year in Turkey (also outside the EU), which recorded a 25.9% increase in box -office revenues and a 22.1% increase in admissions.
The UK had a reasonably strong year, with box-office revenue increasing 2.5% and admissions up by 1.4% year-on-year.
Italy experienced a tougher year, with an 11.6% decrease in box office revenue to €585 million, and 12.4% drop in admissions to 92.3 million.
The average number of cinema visits a year across all UNIC territories stood at 1.5, varying from 3.4 annually in Ireland and 3.3 in France to 0.1 a year in Albania and 0.2 in Macedonia.
There was a slight increase in the market share of European films across the region to 27.5%.
The total number of screens increased to 40,500, with an average of 49 screens per million inhabitants across UNIC territories – consistent with recent years.
Commenting on the report, UNIC said: "The above figures reflect the significant and continuous investment made in the cinema "offer" in terms of innovation both in theatres themselves and audience engagement throughout the cinema-going experience, which is becoming ever-more tailored towards a multitude of preferences."
The report is available online here.