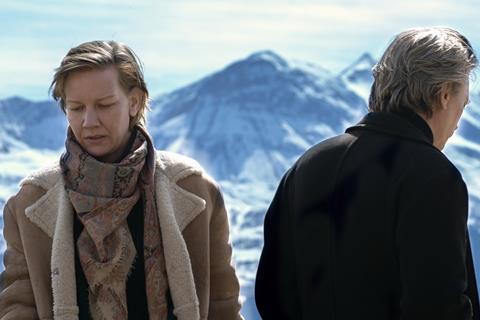 The first titles in the running for the 2023 European Film Awards have been revealed by the European Academy, including Cannes premieres Anatomy Of A Fall, How To Have Sex, The Old Oak and Firebrand.
Anatomy Of A Fall won the Palme D'Or for French director Justine Triet at Cannes. The Hitchcockian mystery thriller is about a woman, played by Sandra Hüller, accused of murder when her husband dies of suspicious causes. Marie-Ange Luciani and David Thion produce.
How To Have Sex won the top Un Certain Regard prize at Cannes for debut UK filmmaker and Screen Star of Tomorrow 2021 Molly Manning Walker. The feature follows a group of teenage girls on a rite-of-passage clubbing holiday, shot in Greece. It is produced by Wild Swim's Ivana MacKinnon and Emily Leo alongside Heretic's Konstantinos Kontovrakis, who produced Triangle Of Sadness, which swept the board with four big wins at the 2022 ceremony.
The Old Oak is directed by UK filmmaker Ken Loach, made with his long-time creative partners writer Paul Laverty and producer Rebecca O'Brian of Sixteen Films. The film portrays the struggle of a landlord to hold onto a pub called The Old Oak as the only remaining public space where people can meet in a once thriving mining community, following the arrival of Syrian refugees who are placed in the village without any notice.
Firebrand stars Alicia Vikander as Katherine Parr, the sixth wife of Henry VIII, played by Jude Law. Brazilian Karim Aïnouz directs, with Brouhaha Entertainment producing.
Further Cannes titles in the mix include Fallen Leaves, La Chimera, The Animal Kingdom, Blackbird Blackbird Blackberry, The Goldman Case and Close Your Eyes.
Eligible for the European Film Awards are European feature films which, among other criteria, had their first official screening between June 1 2022 and May 31 2023 and have a European director, with some stipulations for if a non-European director is Europe-based or has worked in the European film industry for five consecutive years or more.
Further titles will be announced in September.
In the coming weeks, the 4,600 members of the European Film Academy will start to watch and vote for the selected films. Based on the votes of the participating members the nominations in the feature film categories European film, director, actor, actress and screenwriter, as well as in the category European documentary, will be made public on November 7. The winners will be announced at an awards ceremony that takes place on December 9 in Berlin.
Additionally, an eight-member jury will decide on the award recipients for European cinematography, editing, production design, costume design, make-up and hair, original score, sound and visual effects. There will be no nominations in these categories.
EFA Feature Film Selection 2023 – Part 1
20,000 Species of Bees (Sp)

Dir. Estibaliz Urresola Solaguren
Afire (Ger)

Dir. Christian Petzold
Anatomy Of A Fall (Fr)

Dir. Justine Triet
Behind The Haystacks (Greece-Ger-North Macedonia)

Dir. Asimina Proedrou
Blackberry Blackbird Blackberry (Switz-Geo)

Dir. Elene Naveriani
Close Your Eyes (Sp-Arg)
Dir. Víctor Erice
Fallen Leaves (Fin-Ger)

Dir. Aki Kaurismäki
Femme (UK)
Dirs. Sam H. Freeman, Ng Choon Ping
Firebrand (UK)
Dir. Karim Aïnouz
How To Have Sex (UK-Greece)
Dir. Molly Manning Walker
Kidnapped (It-Fr-Ger)

Dir. Marco Bellocchio
La Chimera (It-Fr-Switz)
Dir. Alice Rohrwacher
Safe Place (Cro-Slovenia)
Dir. Juraj Lerotic
Slow (Lithuania-Sp)
Dir. Marija Kavtaradze
The Animal Kingdom (Fr)

Dir. Thomas Cailley
The Goldman Case (Fr)

Dir. Cedric Kahn
The Happiest Man In The World (North Macedonia-Bos & Her-Belg-Slovenia-Cro-Den)
Dir. Teona Strugar Mitevska
The Old Oak (UK-Fr-Belg)

Dir. Ken Loach
The Teachers' Lounge (Ger)

Dir. Ilker Çatak