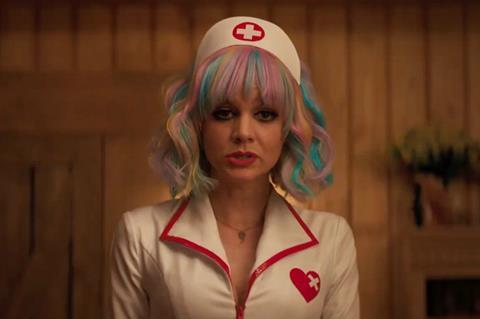 More films than ever before are eligible for this year's European Film Awards' feature film and documentary film selection, with 40 feature films and 15 documentary films, and further feature film titles to be revealed in September.
Titles in the feature film selection include Blerta Basholli's Sundance hit Hive and Emerald Fennell's Promising Young Woman. The latter is eligible despite being listed as a film of US origin. The European Film Academy (EFA) told Screen this was because the film reaches the number of points in European elements as required by the regulations, including having a British director and writer (Fennell) and Carey Mulligan, who is also British, in the lead role.
Francis Lee's Ammonite, Florian Zeller's The Father and Kevin Macdonald's The Mauritanian have also been selected.
In the documentary film selection, films include Jindřich Andrš' A New Shift and Ahmet Necdet Çupur's Les Enfants Terribles.
Scroll down for the full list
Due to the pandemic and the fact that several key festivals in Europe are taking place later than usual, EFA is announcing the feature film selection in two steps.
There is also a new VoD viewing platform for EFA members, which has been developed as part of an 18 month digital transformation programme in 2021-22.
In the coming weeks, EFA's over 4,000 members will be able to view the selected films and – after the announcement of all films – vote for the nominations in the feature film categories European film, director, actor, actress and screenwriter as well as for the nominations in the category European documentary. Based on the votes of all members, the nominations will be made public on November 9 during the Seville European Film Festival in Spain. An eight-member jury will decide on the award recipients in the categories of European cinematography, editing, production design, costume design, make-up and hair, original score, sound and visual effects.
EFA Feature Film Selection 2021 – Part 1
200 Metres (Isr-It- Swe)
Dir. Ameen Nayfeh
Ammonite (UK)
Dir. Francis Lee
And Tomorrow The Entire World (Ger)
Dir. Julia von Heinz
Apples (Greece-Pol-Slovenia)
Dir. Christos Nikou
Assandira (It)
Dir. Salvatore Mereu
Bad Luck Banging Or Loony Porn (Rom-Lux-Czech-Cro)
Dir. Radu Jude
Beginning (Fr-Geo)
Dir. Dea Kulumbegashvili
Brother's Keeper (Turkey-Rom)
Dir. Ferit Karahan
Conference (Rus- Est-UK-It)
Dir. Ivan Tverdovskiy
Dear Comrades! (Rus)
Dir. Andrei Konchalovsky
Fabian – Going To The Dogs (Ger)
Dir. Dominik Graf
Forest – I See You Everywhere (Hun)
Dir. Bence Fliegauf
Gaza Mon Amour (Fr-Ger-Port-Palestine)
Dirs. Arab Nasser and Tarzan Nasser
Hammamet (It)
Dir. Gianni Amelio
Here We Are (Isr-It)
Dir. Nir Bergman
Hive (Kosovo-Switz-North Macedonia-Alb)
Dir. Blerta Basholli
I'm Your Man (Ger)
Dir. Maria Schrader
Luzzu (Malta)
Dir. Alex Camilleri
Natural Light (Hun-Germany-Latvia-Fr)
Dir. Dénes Nagy
Never Gonna Snow Again (Pol-Ger)
Dirs. Małgorzata Szumowska and Michał Englert
Night Of The Kings (Fr-Ivory Coast-Can-Senegal)
Dir. Philippe Lacôte
Nowhere Special (It-Rom-UK)
Dir. Uberto Pasolini
Oasis (Ser-Slovenia-Neth-Bos & Her-Fr)
Dir. Ivan Ikić
Petite Maman (Fr)
Dir. Céline Sciamma
Pleasure (Swe-Neth-Fr)
Dir. Ninja Thyberg
Preparations To Be Together For An Unknown Period Of Time (Hun)
Dir. Lili Horvát
Promising Young Woman (US)
Dir. Emerald Fennell
Quo Vadis, Aida? (Bos & Her-Austria-Neth-Fr-Pol-Nor-Ger-Rom-Turkey)
Dir. Jasmila Žbanić
Riders Of Justice (Den-Swe)
Dir. Anders Thomas Jensen
Supernova (UK)
Dir. Harry Macqueen
The Belly Of The Sea (Sp)
Dir. Agustí Villaronga
The Dig (UK)
Dir. Simon Stone
The Fam (Switz)
Dir. Fred Baillif
The Father (UK, Fr)
Dir. Florian Zeller
The Girl And The Spider (Switzerland)
Dir. Ramon Zürcher and Silvan Zürcher
The Macaluso Sisters (It)
Dir. Emma Dante
The Mauritanian (UK-US- S Afr)
Dir. Kevin Macdonald
The Whaler Boy (Rus-Pol-Bel)
Dir. Philipp Yuryev
Tove (Fin-Swe)
Dir. Zaida Bergroth
What Do We See When We Look At The Sky? (Ger-Geo)
Dir. Alexandre Koberidze
EFA Documentary Film Selection 2021
A New Shift (Czech)
Dir. Jindřich Andrš
A Song Called Hate (Ice)
Dir. Anna Hildur Hildibrandsdóttir
All-In (Bel-Neth-Fr)
Dir. Volkan Üce
Babi Yar. Context (Neth- Ukr)
Dir. Sergei Loznitsa
Flee (Den-Fr-Swe-Nor)
Dir. Jonas Poher Rasmussen
Gorbachev. Heaven (Latvia-Czech)
Dir. Vitaly Manskiy
Les Enfants Terribles (Fr-Turkey-Ger)
Dir. Ahmet Necdet Çupur
Mr Bachman And His Class (Ger)
Dir. Maria Speth
Taming The Garden (Switz-Ger-Geo)
Dir. Salomé Jashi
The Banality Of Grief (Den)
Dir. Jon Bang Carlsen
The First 54 Years – An Abbreviated Manual For Military Occupation (Fr-Ger-Fin-Isr)
Dir. Avi Mograbi
The Most Beautiful Boy In The World (Swe)
Dir. Kristina Lindström and Kristian Petri
The Other Side Of The River (Ger-Fin)
Dir. Antonia Kilian
This Rain Will Never Stop (Ukraine-Latvia-Ger-Qat)
Dir. Alina Gorlova
We (Fr)
Dir. Alice Diop