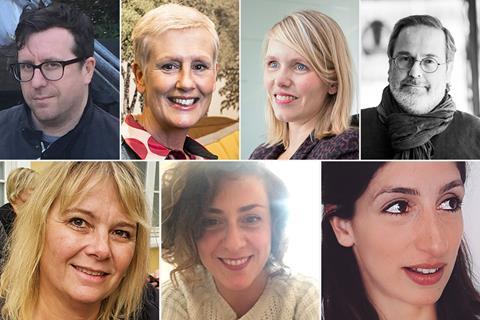 This year's online edition of the European Film Market (EFM), running March 1-5, officially opens next Monday but many sales agents have already got down to business this week.
"We've started our meetings. Buyers have a two-hour window to access their screenings and with all the films that are there, I felt it could help," says The Match Factory head of sales Thania Dimitrakopoulou.
According to the latest EFM figures on Friday (Feb 26), 503 companies from 60 territories have signed up for this year's online edition and 820 films are due to be market screened, up from 732 in 2020.
Dimitrakopoulou and her team are focusing on their four Berlinale titles: Christian Schwochow's Je Suis Karl, Pietro Marcello's For Lucio, Anne Zohra Berrached's Copilot and Dash Shaw's Cryptozoo, which world premiered in Sundance, where it won the Next Innovator award and sold to Magnolia for the US. It plays in Generation at Berlin.
"We're not overloading buyers with the long, long line-ups we normally have at the Berlinale," adds Dimitrakopoulou. "These are four good, very different titles, from known directors."
Her biggest challenge and that of all the sellers at the market this year, however, will not be EFM's online format but rather the ongoing closure of cinemas in many key territories due to the pandemic and uncertainty over when they might open.
"The situation is not fun. I feel like buyers are happy to be back watching films, but they won't go after sales if they don't absolutely love them because they have a lot of films waiting," says Dimitrakopoulou.
Competition benefits
Beta Cinema's executive vice president, acquisitions, sales & marketing Thorsten Ritter echoes these sentiments but is positive about the sales prospects for the company's two Berlinale Competition titles, actor Daniel Brühl's Next Door and Maria Schrader's I'm Your Man.
"Many of the distributors are stacked with films they still need to release and are certainly bracing themselves not to fall in love but we're quite optimistic. We're happy to have accessible films that are on the light side and make for a great night at the movies but still inspire," he says.
Ritter believes Berlin's Competition selection will help put a spotlight on the films even if physical red carpets and public screenings will not take place until the summer, but adds that Beta has put extra effort into creating content for the social networks and buyer events to create extra buzz.
"The Competition does make a big difference. It's top-down. That's where everyone goes for content first, it's that pedigree and possibility of awards in the background that makes a difference. You have to be in the top festivals these days and then in the top sections," he says.
Ioanna Stais, head of sales at Athens-based Heretic Outreach, has equally high hopes for Romanian director Radu Jude's pandemic-shot social satire Bad Luck Banging Or Loony Porn, which will also premiere in Competition. It tops Heretic's slate alongside Panorama title Human Factors, which world premiered at Sundance.
"Compared with what we've gone through over the last year it's great to have some current films in the festivals that are actually happening," she says. "We feel we can somehow start doing our job again. I feel that things are picking up again. I felt it through Sundance and also now with the EFM. I don't see the numbness that was there during the virtual Cannes."
Shot and set against the backdrop of the pandemic, although not directly about it, Bad Luck Banging Or Loony Porn could end up being one of the defining films of the moment, she suggests.
"Apart from the fact the cast is masked, which came through the shooting process because Radu didn't want to jeopardise the health of actors or crews, it's also very current for its biting commentary on today's society," she says.
A need for product
Not all companies are pegging sales activities to Berlinale selections. Susan Wendt at Denmark's TrustNordisk is handling Berlinale Generation title Ninjababy, which is also scheduled for SXSW, but will also be launching a host of upcoming films on her slate.
"Everyone in the business is fed up with online markets and festival, and, of course, by the seriousness of the pandemic, but it feels like everyone senses the light at the end of the tunnel. In some countries, the light is even almost out of the tunnel. Everyone is struggling but it feels as if there is at the same time a need for product," she says.
"In the market, we have buyers-only screenings of three films that are world premieres and haven't even been released locally yet. Films where we do expect a lot of attention. We also have a lot of upcoming titles in our slate and promo reel, where we're expecting a lot of activity as well. Our meeting schedule is already pretty booked, and this should hopefully result in some deals."
The UK's Altitude Film Sales will be focusing on Clio Barnard's festival hopeful Ali & Ava, for which it will be unveiling a promo reel for the first time.
"The film is a gem. We feel very bullish about its prospects," says managing director Mike Runagall, who has already kicked off a packed roster of some 100 EFM meetings.
Like other sellers, he expects buyers to be cautious. "People will still have a look around but unless there's a clear audience for a film, I think buyers will wait," he says.
France tv distribution is unveiling two upcoming French dramas, one with 2021 festival potential – Fabienne Berthaud's upcoming social drama Little Man Tom – and the second, psychological thriller An Ordinary Mother starring Karin Viard, being lined up for a wide 2022 release.
"We would have loved to be attending a physical event and meeting our buyers within the framework of the festival again but we've been happy to discover that distributors are still there," says Julia Schulte, head of sales at France tv distribution.
"Even if cinemas are shut, they're still checking out our line-ups, positioning themselves on films and buying titles," she continues. "At the same time, more certainty on when cinemas will open would be helpful, unreleased line-ups are getting longer and the situation is getting harder and harder."
London and Los Angeles-based Cornerstone Films is also focusing on upcoming titles, including two New Zealand features: biopic drama Whina, about the renowned Māori matriarch and activist Whina Cooper, and high-concept comedy Nude Tuesday.
Whereas the virtual editions of Cannes and AFM in 2020 were about bringing new films to the market and putting together presales to finance them for the company, co-president Alison Thompson says the plan for EFM is to introduce buyers to promo reels of films the company has been working on during the past year.
She, too, feels positive, pointing to the large deals done at Sundance for a handful of films. "Certainly the US market looks pretty healthy from where we are sitting," she says. "There's clearly a demand for independent film.
"We'll hopefully gain a lot of intelligence in this market about where people sit, what they want, and on the timing of when they want material as well," adds Thompson.
"We need to try not to be prescriptive, as in, 'We want this movie to be released by x date' because none of us know what the market is going to be doing when eventually the cinemas do reopen again. The last thing we want is for our films to get lost in the bunfight as films compete for cinema space."