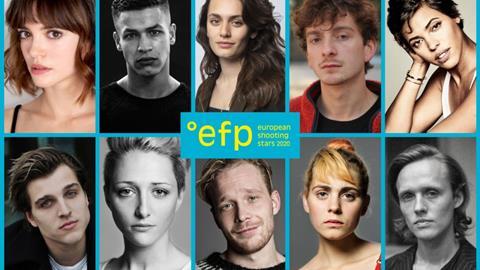 The 10 young actors selected for this year's European Shooting Stars has been unveiled.
European Film Promotion (EFP) has revealed the selection of upcoming talent, which will be introduced to international casting directors, producers and filmmakers at the Berlin Film Festival next month.
They include Germany's Jonas Dassler, who starred as serial killer Fritz Honka in Faith Akin's The Golden Glove, a biography of German serial killer Fritz Honka, which played in competition at last year's Berlinale.
The selection also features Poland's Bartosz Bielenia from Poland, star of Jan Komasa's Corpus Christi, which has been shortlisted for this year's best international feature film Oscar.
Also chosen for this year are Bulgaria's Martina Apostolova, who starred in surrogate mother drama Irina; Danish actress Victoria Carmen Sonne, whose breakout role was in Isabella Eklöf's Sundance drama Holiday; Estonia's Pääru Oja, who starred in crime drama Mihkel; and France's Zita Hanrot, star of local hit School Life and the voice of Zunaira in animated Oscar contender The Swallows of Kabul.
Rounding out the selection are Georgia's Levan Gelbakhiani, a dancer who played the lead in Levan Akin's Cannes drama And Then We Danced; Portugal's Joana Ribeiro, who is set to be seen alongside Mark Wahlberg and Chiwetel Ejiofor in Antoine Fuqua TV series Infinite; Swiss actress Ella Rumpf, who played roles in Sympathy for the Devil and Raw; and Dutch actor Bilal Wahib, who starred in Paradise Drifters.
The Shooting Stars jury comprised British casting director Lucy Bevan, Finnish director Dome Karukoski, Slovak producer Katarina Krnacova, former Bulgarian Shooting Star Vessel Kazakova and German film journalist Rudiger Sturm.
The group will take part in workshops and networking events from February 21-24.
The initiative, which has run since 1998, has previously showcased Riz Ahmed, Alicia Vikander, George Mackay and Carey Mulligan among others.
The 70th Berlin Film Festival will run February 20 to March 1.