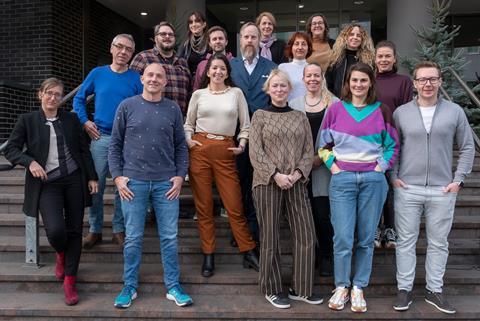 As the role of showrunner becomes increasingly important in European series production, the ifs Internationale Filmschule Köln's European Showrunner Programme has secured an additional three years of funding from Creative Europe – Media Programme of the European Union.
The Film-und-Medienstiftung NRW is on board as a funding partner and Netflix is continuing to support the programme both financially and in terms of experts and content. In addition to Series Mania and the Film Festival Cologne, the ifs has gained the Seriencamp and the Film Festival Göteborg as new festival partners.
The second edition of the English-language programme is now open for applications until April 3. The training starts on June 11.
The showrunner role originated in the US where they tend to have creative control over the series. In Europe, it is still often the director or production company. But that is starting to change with the boom in US series production.
In 2023, Danish series writer and showrunner Jeppe Gjervig Gram (Borgen, Follow the Money) will again head the programme. Among the speakers will be Anne Björnstadt (Lilyhammer, Beforeigners) from Norway, Chris Chibnall (Broadchurch) from the UK, Miikko Oikkonen (Bordertown) from Finland, director Uta Briesewitz (Stranger Things, Westworld, The Wire) from the US, as well as Marianne Wendt (Eden, Neumatt), and the managing directors of bildundtonfabrik, Philipp Käßbohrer and Matthias Murmann (How to Sell Drugs Online (Fast), King of Stonks) from Germany.
The programme includes the European Showrunner Training, a six-month part-time professional training and mentoring programme for experienced series writers who want to expand their skills in core areas of showrunning, such as creative leadership, social impact, series producing, directing and editing.
This is accompanied by the European Showrunner Think Tank, a series of public events dedicated to defining and establishing the role of the showrunner in Europe.
New this year is the European Showrunner Network, a platform for continuous exchange between alumni and experts of the programme.
The programme's class of 2022 included top series writers as participants, some of whom were already steering their first series projects in the showrunner role, such as Lisa Ambjörn (Young Royals, Sjukt/Sick, Sweden), Sanne Nuyens (Hotel Beau Séjour, The Twelve, Belgium) and Julie Skaufel (Home for Christmas, I Do, Norway).
Nadja Radojevic, chief executive director of the ifs, said: "The extremely positive response to the first edition of the European Showrunner Programme has confirmed how much this innovative qualification initiative meets the needs of the growing and rapidly changing European series market. I thank our funders and industry partners for their continued strong support."
Founded in 2000, the ifs Internationale Filmschule Köln is one of the leading schools for film and moving image in Germany.