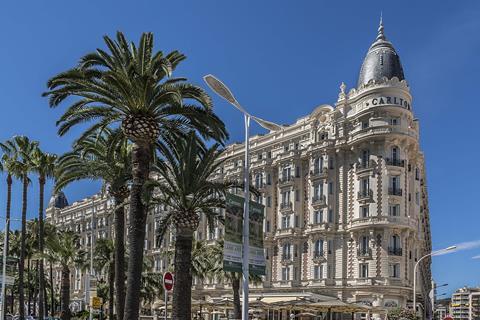 Cannes' iconic Carlton hotel reopened its doors yesterday (March 13) after five years of renovations and two years of closure, in time for the Cannes Film Festival which will run from May 16-27.
Now officially known as the Carlton Cannes, a Regent Hotel, part of the Qatari-owned IHG Hotels & Resorts, the 110-year-old five-star luxury locale is officially open for booking. The landmark location at 58 boulevard de la Croisette – officially a historical monument – has been around since 1913. Its legendary Belle Epoque facade has long been the unofficial centre of the Croisette and its reopening marks another step on Cannes' bounceback from the pandemic.
Traditionally, Cannes jury presidents have resided at the hotel, but the festival remains mum on where 2023 president Ruben Östlund or his fellow yet-to-be-announced jurors will be lodged. Rooms for the 2023 festival will start at around $1,930 (€1,800) a night for a single room during the festival and suites will go for around $4,800 (€4,500) per night.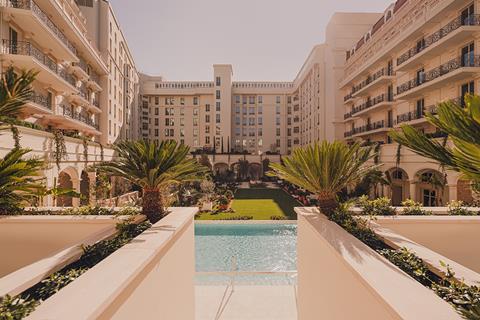 The renovations, which are understood to have cost upwards of $376m (€350m), have preserved the hotel's historic exterior while adding two additional 20,000 m2 wings, luxury residences, sunbathing decks, cabanas and the largest hotel infinity pool in Cannes. The hotel now has 332 rooms, 72 with a sea view, and 37 branded residences.
The hotel was revamped by French interior designer Tristan Auer, and designed and supervised by restoration specialist and architect Richard Lavelle. The famous 'Carlton Hotel' inscription on the skyline pinnacle of the facade has been restored to exactly as it was when the hotel opened more than a century ago.
The Carlton has a rich history spanning politics, pop culture and even police activity from hosting the first League of Nations conference in 1922 to the 2011 G20 summit where then-US president Barack Obama famously stayed. The hotel has also been the target of several high-profile jewellry heists.
Since the Cannes Film Festival was founded in 1939, it has been a central hub of activity, housing jury presidents, auteurs and actors premiering films and lavish soirées. After shooting To Catch A Thief at the Carlton in 1954 starring Grace Kelly and Cary Grant, Alfred Hitchcock returned to host a dinner there in 1963 after screening The Birds at the festival. The hotel was also featured in 1970 Peter Sellers and Goldie Hawn comedy There's A Girl In My Soup, 1995 romantic comedy French Kiss and Elton John's 'I'm Still Standing' music video.
Au revoir, The Grand Hotel. Bonjour, The Mondrian
Close by on the Croisette at number 45, the former Le Grand Hotel reopened its doors on Friday, March 10 as The Mondrian Cannes, with a completely renovated space.
Built in 1863 before relaunching in 1963 as 'the Grand', as it has been known for the past decades, the hotel has been a popular spot particularly for film companies setting up non-Palais du Festival offices at the Residences du Grand Hôtel just next door. After decades of confusion in which the Grand Hotel's concierges had to redirect lost buyers to the unaffiliated spaces next door, the Mondrian's new name and look should make it easier to separate the two.
As always, however, the hotel's gardens – now spanning 50,000 feet with a new look and a 150-seat terrace – should be le place to be for schmoozing sellers and buyers with nearby offices.
Part of Accor's lifestyle-oriented Ennismore group, the Mondrian Cannes is home to 75 renovated rooms including three suites, meeting and event spaces and a new beachfront 'culinary concept' (aka 'a restaurant') at Hyde Beach Cannes. The makeover will also mean price hikes for industry executives opting for rooms that already cost upwards of $1,500 (€1,400) for a single room during the festival last year and a prestige sea view room during festival season this year costs around $2,300 (€2,100).
Attendees at April's Mip-TV and the parallel Canneseries festival will be the first to experience the revamped hotels.