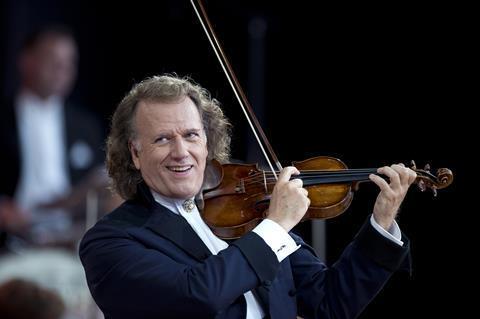 Event cinema may be reaching a saturation point in the UK, but there are large-scale growth opportunities internationally, according to a panel at today's Event Cinema Association (ECA) conference in London.
The medium grew 6% year-on-year in 2017, a significant decline in growth from recent years, while only one release from the year broke into the all-time top 10 event cinema releases in the UK and Ireland. That was mainstay Andre Rieu's latest concert release, Piece Of Magic Entertainment's Andre Rieu 2017 Maastricht Concert, which grossed £1.52m, less than half of the record-setting totals from the National Theatre's Hamlet and War Horse releases.
Karen Liu, who manages the programming of event cinema titles at Odeon UK, said that the industry "needs some bigger titles coming through". Her company is looking at more "big ticket events which money can't buy," she said, using the examples of concerts or family musicals (such as The Lion King) that are playing sold out runs, creating an opportunity for spill over cinema audiences.
Moderator James Dobbin from National Amusements (which runs the UK's Showcase cinemas) acknowledged that it's "hard to secure those titles" and that exhibitors "understand the complications" of securing distribution deals on those events. "In an ideal world, we'd have Wicked on the cinema screen," he said.
While securing the premium content needed to bolster the UK's event cinema box office may be complicated, significant opportunities in the international market are being presented.
Alice de Rosa, director of distribution at UK outfit Trafalgar Releasing (which is celebrating its first anniversary today), said that the company had "a really great year in the UK in 2017" but that success had been seen "more markedly in the international market".
"The UK is very established, it's debatable that it's become saturated," de Rosa commented. She pointed to the example of David Gilmour Live At Pompeii, which had grossed more than $5m worldwide. In contrast, none of the company's releases had cracked £2m in the UK, the benchmark figure set by the top five releases of all time in the territory. "The rapid growth is being seen internationally," she added.
"We're making steps forward internationally," said Dobbin. "2017 was the first year that every territory was up year-on-year. The US and Argentina were very successful for National Amusements."
Encore screenings
There were contrasting opinions from the panel on the benefits of encore screenings, i.e. extra screenings of 'live' broadcast events played after the original broadcasts.
Dobbin noted that a study commissioned by the National Theatre (which accounts for the top three best performing events cinema releases in the UK: Hamlet, War House, Audience) had revealed that 47% of audiences claimed to have not attended National Theatre releases at the cinema due to 'inconvenience'.
He suggested that a lack of convenient show times was prohibiting event cinema releases from reaching the maximum audiences.
"At Odeon, we really like to go for the live broadcast date," said Liu, noting that the marketing drive that gets put behind the 'live' element of that date created necessary "urgency". However, she acknowledged that the statistic showed that "there could be room for additional encores" and that it's something for Odeon to consider. "The huge titles with huge stars have more bring-back potential, smaller titles don't warrant encores," she explained.
Johnny Carr, alternative content manager at Vue Entertainment (which saw a 25% rise in event cinema box office grosses in 2017), claimed that a data-informed approach was key to selecting encore screenings. "I have close to 900 screens to play with, with strategic planning I can find opportunities to add encores," he said. "I've got years of data to look back on for comparable titles, I can quickly determine a release's potential by looking at previous events."
"There is an opportunity here but it has to be done within a certain time frame," said Dobbin on the necessity of harnessing the 'live' element. "It tends to be reactive. Distributors will leave it up to exhibitors to add their own encores, there's no proactive strategy. People want choice," he claimed.
De Rosa said that her company "don't find the need to differentiate" between the 'live' screenings and further encores. "It still goes under the same banner – it's more about how the content is presented than delivered."
"As a distributor we've championed encores significantly," she continued. "We've tended to be agile and reactive to the market. We monitor presales closely and we'll point exhibitors in the right direction."
Carr noted that it can be challenging for exhibitors to be reactive because programming schedules need to be set in advance, and there is a wealth of film content that needs to find room. That's why a predictive, data-informed approach was important.
Alternative content
One of the biggest opportunities for growth in event cinema is the sphere of alternative content. Liu revealed that Odeon is exploring the possibility of programming screenings for this year's football World Cup, but that it was a challenging proposition because the content is free-to-air so the cinema wouldn't be able to charge for tickets. Carr acknowledged the challenge in not being able to sell tickets but said "there are models around that".
Vue has seen significant success with another sport, boxing, in particular the high-profile fight between Floyd Mayweather and Conor McGregor in 2017. "We firmly believe there's a place on the big screen for boxing. [That fight] was a big success for us." That event took place at 4am UK time, beamed live from Las Vegas, which was a challenge because of the timing but also an opportunity because bars were closed. "Our strategy is to create a fan park atmosphere – ensuring a good attendance and that there's atmosphere," Carr added.
"We need to broaden the conversation beyond film," claimed de Rosa. The panel highlighted that there are opportunities for event cinema in the fields of sports, repertory cinema, concerts, foreign language cinema (which can utilise an event cinema model by starting a title's run on a Thursday and encoring into the weekend if box office grosses are good), anime and gaming.