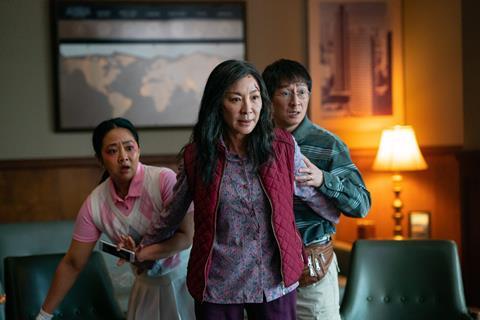 Everything Everywhere All At Once has been confirmed as A24's biggest global hit and currently sits on $80.9m heading into the weekend.
Besides the $61.5m North American running total the SXSW premiere and pandemic smash starring Michelle Yeoh has amassed $5m in the UK through A24, $3.8m in Australia via Village Roadshow, $2.3m in Taiwan and $1.4m in Hong Kong (both through A Really Good Film Company) and $1.1m in Germany through Leonine.
The film is yet to open in a number of major territories including Mexico and Brazil on June 23 and France on June 31 with Japan and Italy to follow.
The film, in which Yeoh plays a stressed woman who gets involved in an adventure across multiple dimensions and sees the alternative lives she could have led, opened in North America on March 25. It earned $500,000 from 10 theatres or $50,000 per site to record the best average of the year-to-date and the second best pandemic average behind Paul Thomas Anderson's Licorice Pizza in late 2021.
It placed sixth last weekend and remains in more than 1,000 theatres heading into its 11th session in North America, Jamie Lee Curtis, Stephanie Hsu and James Hong also star in the film, directed by the Daniels, whose Swiss Army Man premiered at Sundance in 2016.
Prior to Everything Everywhere All At Once A24's top global release was Hereditary. Ari Aster's horror film premiered at Sundance 2018 and grossed $80.2m by the end of its run.