McGregor's directorial debut played at this week's Zurich Film Festival.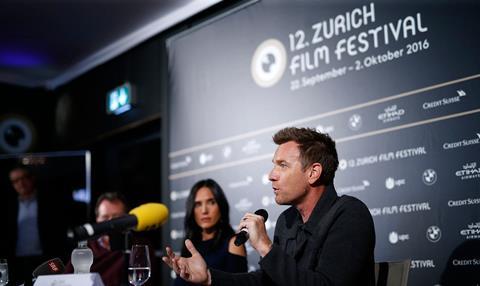 During this week's Zurich Film Festival, Ewan McGregor expressed regret over falling out with director Danny Boyle and said that shooting Trainspotting 2 together over the summer has healed old wounds. McGregor and Boyle fell out after Boyle cast Leonardo DiCaprio in The Beach in 2000.
Speaking at the Zurich fest, where McGregor's directorial debut American Pastoral is screening and the actor will take part in a ZFF Master talk on Tuesday (Sept 27), McGregor said, "Danny and I didn't have any interaction for years, which is a shame. I do regret the years we didn't work together because I love working with him."
The actor has reprised his iconic role as Renton in Trainspotting 2, citing the quality of the screenplay as the main reason he agreed to return. "It was fun, it was good to be back with Danny," said McGregor.
Having made his directing debut on Philip Roth adaptation American Pastoral, McGregor said he is eager to return to the director's chair. "It took me 15 years to find the right story to tell, I hope it doesn't take another 15 years to find the next one," he said at the ZFF press conference for the film. "I'd like to do something entirely different. I'd like to do something contemporary and with young people, and maybe not be in it."
American Pastoral – backed by Lakeshore Entertainment – stars McGregor alongside Jennifer Connelly and Dakota Fanning in the story of the shattered American dream of one family in the Vietnam War era. Lakeshore producer Gary Lucchesi said of the decision to attach McGregor as director: "It was not a complicated decision for us, we embraced the idea immediately. We knew we had a performance-based movie, we felt it in our bones that Ewan would be fantastic with the actors. I really believe it's one of the best decisions we've made in our life."
Pulitzer winner Philip Roth is also a fan of the finished film, McGregor said. "When I found out that he had seen the film and liked it, it was a great relief to me. I think if he had not liked it, I would have felt a sense of failure." Because of the size and scope of the project, McGregor joked: "I feel a bit like I've made my second movie."
American Pastoral had its world premiere in Toronto before berths in San Sebastian and Zurich. Lakeshore handles international sales; Lionsgate will release the film in the US on October 21.