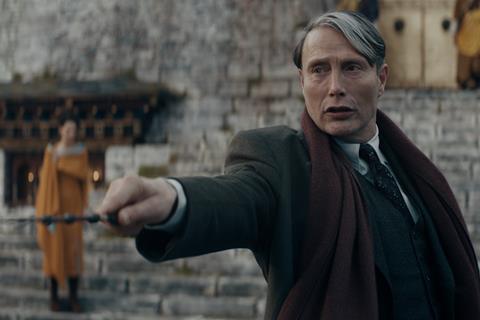 Worldwide box office April 22-24
| Rank | Film (Distributor) | 3-day (world) | Cume (world) | 3-day (int'l) | Cume (int'l) | Territories |
| --- | --- | --- | --- | --- | --- | --- |
| 1. | Fantastic Beasts 3 (Warner Bros) | $52.3m | $280.3m | $38.3m | $213.2m | 68 |
| 2. | Sonic The Hedgehog 2 (Paramount) | $34.2m | $287.8 | $19m | $142m | 58 |
| 3. | The Bad Guys (Universal) | $29.8m | $87.1m | $5.8m | $63.1m | 52 |
| 4. | The Lost City (Paramount) | $21.4m | $128m | $17.1m | $42.7m | 59 |
| 5. | K.G.F: Chapter 2 (various) | $19.7m | $114.9m | $19.7m | $112.1m | 20 |
| 6. | The Northman (Universal) | $18.2m | $23.5m | $6.2m | $11.5m | 42 |
| 7. | The Unbearable Weight Of Massive Talent (various) | $8.9m | $8.9m | $1.7m | $1.7m | 21 |
| 8. | Everything Everywhere All At Once (various) | $6.4m | $30.1m | £1m | $3.2m | 15 |
| 9. | Morbius (Sony) | $5.5m | $156.5m | $3.3m | $87.4 | 63 |
| 10. | Ambulance (Universal) | $3.6m | $46.6m | $1.8m | $27.4m | 71 |
Credit: Comscore, all figures estimates, click top right to expand
'Fantastic Beasts 3' reaches $280.1m worldwide
UPDATED: Warner Bros' Fantastic Beasts: The Secrets Of Dumbledore topped the global box office again in its third week of release, adding a confirmed $38.3m in international markets, $14.0m in North America, and $52.3m worldwide. Cumulative totals are $212.9m for international, $67.2m in North America, and $280.1m worldwide.
While The Secrets Of Dumbledore suffered a 67% drop from the previous weekend in North America, the traction was stronger for international, dropping a gentler 44% in holdover markets.
Despite the distraction of the presidential run-off election on Sunday, France continues to perform strongly, leading the international pack with a confirmed $4.7m takings in its second week of release. Next come Germany ($3.6m) and Japan ($3.1m), both in their third week of release.
Germany ($22.8m) and Japan ($22.3m) lead the international ranking for cumulative takings, ahead of UK/Ireland ($21.5m). Next comes China with $17.5m – impacted by cinema closures in Shanghai, and with Covid cases rising in Beijing. France, where the film has enjoyed one week less play, has reached $13.6m.
Hong Kong, opening with an estimated $1.4m, was the key new territory, and the film reaches seven new markets in the Middle East later this week.
The Secrets Of Dumbledore has so far reached 34% of the lifetime total achieved by Fantastic Beasts And Where To Find Them ($814m worldwide) and 43% of the total for The Crimes Of Grindelwald ($655m).
'Sonic The Hedgehog 2' adds $34m, pushes towards $300m
Paramount's Sonic The Hedgehog 2 enjoyed another strong session in international markets, adding an estimated $19.0m, and declining just 29% in holdover territories. In North America, the film added an estimated $15.2m.
Cumulative totals for the family-skewing sequel are $142.0m for international, $145.8m in North America, and $287.8m worldwide.
Sonic The Hedgehog 2 benefited from new openings in a number of smaller markets, with Poland leading the way via an estimated $1.2m debut.
In holdover territories, France and Australia led with an estimated $2.1m apiece (both in fourth week of play), ahead of UK/Ireland (fourth weekend) and Brazil (third weekend) with $2.0m each.
In cumulative totals, UK/Ireland leads with $26.3m, ahead of Mexico ($15.7m), France ($14.3m) and Australia ($13.1m).
Sonic The Hedgehog 2 is already 90% of the way to matching the $319.7m worldwide box office of the first Sonic The Hedgehog film, which was released pre-pandemic in February 2020.
'The Bad Guys' boosted by North America opening
Rounding out a top three of films with family appeal at the global box office is Universal's release of DreamWorks Animation's The Bad Guys, which landed in North America last Friday. The animal caper knocked The Secrets Of Dumbledore off the top of the North America box office thanks to an estimated debut of $24.0m.
Add in an estimated $5.9m from 51 international territories, and The Bad Guys grossed $29.9m worldwide at the weekend – taking the cumulative total to $87.1m.
Among international territories, Australia benefited from school holidays, delivering an estimated $1.4m in the fourth week of release, while France added an estimated $1.4m in the third week of play.
For cumulative totals, UK/Ireland leads the international markets with $12.2m, ahead of Australia ($8.6m), Spain ($6.4m) and Germany ($4.8m).
The Bad Guys lands in a Covid-challenged China this Friday, with South Korea and Japan set for the following week.
'The Northman' lands in North America, expands international footprint
UPDATED: Universal's release of Robert Eggers' The Northman expanded from 15 early international markets to a total of 41, also adding North America to the mix. The outcome was a confirmed $12.3m debut in America, plus $6.3m for international. Cumulative total is $23.9m.
Among the 26 new international markets, Australia led on a confirmed $843,000, followed by Spain ($834,000), Germany ($640,000) and Italy ($466,000). Among the holdover territories, UK/Ireland led with a confirmed $891,000 (taking the total after 10 days to $3.1m), followed by Mexico ($584,000, and a $1.9m total).
The Northman has now overtaken the lifetime worldwide box office of The Lighthouse ($18.1m), and is more than half way to reaching The Witch ($40.4m).
Two key markets open in May (France and Brazil), with South Korea to follow in June. Japan is not set to receive The Northman until January 2023.
'The Lost City' adds more markets, reaches $128m
Paramount's The Lost City continues to expand its international footprint, moving up from 33 countries to 58. Traction in international holdover markets was strong at the weekend, declining just 21%.
Weekend takings were an estimated $17.1m for international, $4.4m in North America, and $21.5m worldwide.
Among new territories, France delivered an estimated $2.1m, while Germany and Mexico both debuted with an estimated $1.7m.
For holdovers, Australia impressed with an estimated second session of $2.1m (down 16%), while UK/Ireland offered a similar $1.9m in its second session (down 17%). Cumulative totals are respectively $6.8m and $7.4m.
Totals to date are $85.4m in North America, $42.7m for international, and $128.1m worldwide.
The Lost City returns Sandra Bullock to a lead role on the big screen following Netflix outings for her two most recent films The Unforgivable (2021) and Bird Box (2018), which followed ensemble caper Ocean's Eight(2018, $298m worldwide). Before that, she starred with Billy Bob Thornton as rival political consultants in Our Brand Is Crisis (2015, $8.5m) and in Alfonso Cuaron's Gravity (2013, $723m).
Co-star Channing Tatum immediately preceded The Lost City with Dog – a handy $61.6m hit in North America for United Artists Releasing, adding $14.5m in international markets so far.