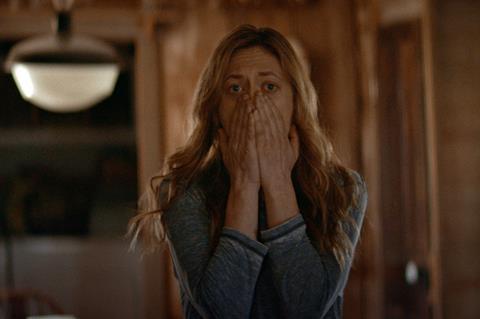 Canada's Fantasia International Film Festival has revealed a second wave of titles – including nine world premieres - for this year's virtual ediion which is taking place from August 20 to September 2.
The Montreal-based festival will offer live screenings, a programme library, panels and workshops which will be accessible across Canada and geo-locked to prevent access from elsewhere.
World premieres now set for Fantasia include The Block Island Sound, the latest horror outing from Kevin and Matthew McManus; The Oak Room, a fourth feature from Canadian filmmaker Cody Calahan; and Minor Premise, a sci-fi drama from Eric Schultz.
Among the 30 films newly announced for the event and getting their international premieres are US writer/director Bryan Bertino's The Dark And The Wicked, previously slated to launch at the Tribeca Film Festival; Japanese director Tsutomu Hanabusa's Project Dreams – How To Build Mazinger Z's Hangar; and director John Hyams Alone, a US remake of 2012 Swedish thriller Gone.
North American premieres at Fantasia will include French musical A Mermaid In Paris, from French music star Mathias Malzieu; Me And Me, a suspense story marking the directing debut of South Korean actor Jung Jin-young; and The Columnist, a black comedy about internet bullying from the Netherlands by filmmaker Ivo van Aart.
Among Fantasia's Canadian premieres is a romantic comedy from Taiwan called I WeirDo.
Films added to the line-up of Fantasia's Camera Lucida section for auteur-driven works at the intersection of genre and arthouse include the feminist western Savage State, a co-production between France, Canada and Belgium.
Joining the line-up for the Documentaries From The Edge section for innovative non-fiction films is Class Action Park, about a New Jersey amusement park known during the 1980s and 1990s as the world's most dangerous.
Full list of Fantasia's second wave films:
Alone (US)
Dir. Marc Menchaca
International premiere
Beauty Water (South Korea)
Dir. Cho Kyung-hun
North American premiere
Bleed With Me (Can)
Dir. Amelia Moses
World premiere
The Block Island Sound (US)
Dirs. Kevin & Matthew McManus
World premiere
Class Action Park (US)
Dirs. Seth Porges & Chris Charles Scott III
International premiere
Climate Of The Hunter (US)
Dir. Mickey Reece
Quebec premiere
The Columnist (Neth)
Dir. Ivo van Aart
North American premiere
Crazy Sumari Musahi (Jap)
Dir. Yûji Shimomura
Canadian premiere
The Dark And The Wicked (US)
Dir. Bryan Bertino
International premiere
Detention (Taiwan)
Dir. John Hsu
Canadian premiere
La Dosis (Arg)
Dir. Martin Kraut
North American premiere
The Five Rules Of Success (US)
Dir. Orson Oblowitz
World Premiere
For The Sake Of Vicious (Can)
Dirs. Gabriel Carrer & Reese Eveneshen
World premiere
Fugitive Dreams (US)
Dir. Jason Neulander
World premiere
I Weirdo (Taiwan)
Dir. Liao Ming-Yi
Canadian premiere
Jesters: The Game Changers (South Korea)
Dir. Kim Joo-ho
North American premiere
Life: Untitled (Japan)
Dir. Kana Yamada
Canadian premiere
Me And Me (South Korea)
Dir. Jung Jin-young
North American premiere
A Mermaid In Paris (Fr)
Dir. Mathias Malzieu
North American premiere
Minor Premise (US)
Dir. Eric Schultz
World premiere
My Punch-Drunk Boxer (South Korea)
Dir. Jung Hyuk-ki
North American premiere
The Oak Room (Can)
Dir. Cody Calahan
World premiere
Project Dreams -How To Build Mazinger Z's Hangar (Jap)
Dir. Tsutomu Hanabusa
International premiere
The Prophet And The Space Aliens (Isr-Aust-South Africa)
Dir. Yoav Shamir
North American premiere
PVT Chat (US)
Dir. Ben Hozie
World Premiere
Sanzaru (US)
Dir. Xia Magnus
International Premiere
Savage State (Fr-Can-Bel)
Dir. David Perrault
North American premiere
Slaxx (Can)
Dir. Elza Kephart
World premiere
Vertigo (South Korea)
Dir. Jeon Gye-soo
Canadian premiere