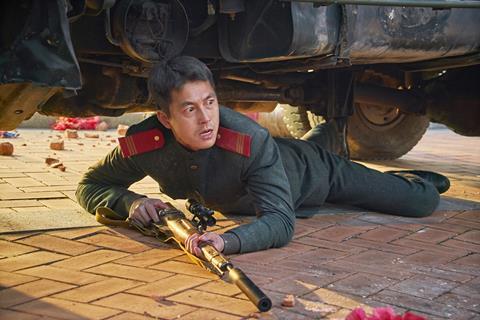 Celebrating its 20th edition, the Far East Film Festival (FEFF) in Udine, Italy is set to open with Korean espionage thriller Steel Rain and the world premiere of Nam Ron's Malaysian crime drama Crossroads: One Two Jaga on April 20.
Directed by Yang Woo-seok, Jung Woo-sung-starrer Steel Rain was released in South Korea last December where it clocked up more than 4.45 million admissions according to the Korean Film Council (KOFIC). It was released worldwide on Netflix last month, but this will be the film's "world festival premiere" as FEFF puts it.
The festival will close April 28 with the international premiere of Indonesian war thriller Night Bus, directed by Emil Heradi, and the world premiere of the fest's restoration of Throw Down, Hong Kong director Johnnie To's martial arts noir film from 2004.
The festival will screen 81 films from 11 countries this year with nine world premieres – including three restored films, 12 international premieres and 22 European premieres.
It has 55 titles in competition for the Golden Mulberry, awarded by the public, and the Black Mulberry, awarded by Black Dragon pass holders.
New award
Of the 55 films in competition, 21 are by first or second-time directors; the festival is dubbing these the Fab 21 and launching a new award for them, the White Mulberry.
The Fab 21 includes world premieres such as Taiwanese family drama Dear Ex, directed by Mag Hsu and Hsu Chih-yen, and the international premieres of Gavin Lim's Singaporean action thriller Diamond Dogs and Bongkod Bencharongkul's Thai film Sad Beauty, a female relationship crime drama. Closing film Night Bus will also be competing for the White Mulberry.
A jury made up of Hong Kong producer Albert Lee, US producer Peter Loehr and Italian screenwriter Massimo Gaudioso will award the White Mulberry.
Brigitte Lin Ching Hsia will be at the opening ceremony to kick off FEFF, which will hold a retrospective in her honor.
Other guests are to include Johnnie To, producer Nansun Shi, director Yoshida Daihachi with The Scythian Lamb, and director Ryoo Seung-wan and actor Hwang Jung-min with The Battleship Island: Director's Cut.
The festival made a special note of filmmaking couple Jang Joon-hwan and Moon So-ri who will both be attending. Jang is attending with 1987: When the Day Comes, which he directed and in which Moon made a special appearance, and Moon is attending with her directorial debut The Running Actress, in which she also stars and he makes a cameo appearance.
Focus Asia, the festival's project market, has selected 14 titles, and the Ties That Bind co-production workshop has 15 professionals due to attend.
In total, the festival expects to host more than 150 participants from 35 countries.