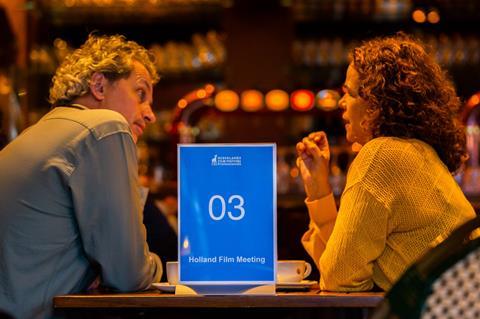 Paula van der Oest's €9m English-language drama Mata Hari is among the films being presented during the Holland Film Meeting's projects programme, the industry side of this year's Netherlands Film Festival, which begins today (September 24) in Utrecht. It will run until October 2.
Van der Oest, promised a "feminist approach" to the subject matter. "Most of the existing Mata Hari films are told from a male perspec­tive," she told Screen. "They focus on Mata Hari being a glam­orous and exotic spy. A dangerous temptress, a traitor."
Mata Hari, born as Margaretha Geertruida Zelle in the Netherlands, was a Dutch exotic dancer and courtesan executed by a firing squad in France in 1917 after charges that she had been spying for the Germans during the First World War . Previous film versions of her story include a 1931 MGM movie starring Greta Garbo and 1985 drama made by Cannon Films in which she was played by Emmanuelle star, Sylvia Kristel.
Someone who refused to let men decide her fate. She wanted to have sex but didn't want the rela­tion­ships. Men were allowed to have several women because it was 'their nature' ,women were not. Mata Hari refused to accept this."
The film will be told in four chapters, with four different actors playing Mata Hari at a different stage of her life. It will shoot around the world and so is being put together as a co-production between the Netherland, Belgium and Indonesia. The Netherlands Film Fund is one of the backers.
Mata Hara is the most high profile project in a selection of 23 Lab projects organised in three sections: BoostNL, the programme run by the Holland Films Meeting together with International Film Festival Rotterdam which showcases international projects supported by IFFR's Hubert Bals Fund and Dutch projects in development; Stories & Beyond, which brings together screenwriters with top distributors, sale agents and producers, and New Dutch, a curated selection of the best new local projects in fiction, documentary, animation and interactive,
After moving online last year,due to the Covid-19 pandemic, Holland Film Meeting is now a hybrid event. "What we liked about the online aspect is that it provided us with opportunities to include a lot more international guests," said Sterre de Jong, head of NFF professionals and talent.
This year, online meetings and script consultancy sessions have been held in advance of the event in Utrecht. Sales agents and distributors due to participate in the Holland Film Meeting include Cat & Docs, Film Constellation, DFW International, Paradiso Filmed Entertainment, Modern Films, EastWest Filmdistribution, XYZ Film, Films Boutique , Filmotor, J&J Films, Aspect Ratio, Wide Management, Autlook, Cinema Delicatessen, and New Europe Film Sales.
Film festival, new talents
The festival itself opens today with the premiere of Antoinette Beumer's My Father Is An Airplane, an adaptation of the director's semi-autobiographic novel about her family It is produced by Frans van Gestel's Topkapi and is being released via September Film in in the Benelux. International sales are handled by Nine Film.
Also receiving its Dutch premiere at the festival is Nr 10, a comedy thriller from leading local arthouse director Alex van Warmerdam, whose 2013 title Borgman is one of the only Dutch films in recent years to have played in the main competition in Cannes. Nr 10, is produced by Graniet Film and Czar Film, and is also sold by Nine Film.
Five young writer-directors, producers and emerging professionals have been chosen for this year's Talent En Route programme, which puts a spotlight on some of the most promising new talents within the Dutch industry. They are Joosje Duk (director of web series Almost Starring), Zara Dwinger (whose new film The Girl Who Was Cursed is in official selection), Kevin Osepa (best known for the short Watamula); documentary producer Jasper Boon (behind Guido Hendrikx' A Man And A Camera) and short film distributor Hidde de Vries (who runs short film distribution agency Kapitein Kort.)
Among those giving talks and masterclasses during the festival are Emmy-winning composer Lolita Ritmanis, renowned costume designer Madeline Fontaine,whose credits include Amelie and Jackie, and editor Mikkel EG Nielsen, who has cut such films as Sound Of Metal and Bests Of No Nation.