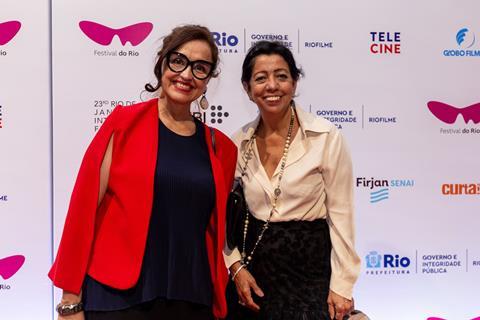 The Festival do Rio has launched a compact in-person 2021 edition after missing a year due to Covid and kicked off with the Brazilian premiere of Pedro Almodóvar's Parallel Mothers.
The 23rd edition runs through December 19 and includes 71 Brazilian features and shorts in Première Brasil with work by Julio Bressane, Karim Ainouz, Walter Salles and Daniela Thomas, among others.
A lively international component encompasses Joe Wright's Cyrano, Julia Ducournau's Titane, Kenneth Branagh's Belfast, Apichatpong Weerasethakul's Memoria, Andrea Arnold's Cow, Paul Verhoeven's Benedetta, and Woody Allen's Rifkin's Festival.
The festival is screening five films from Hong Kong director Wong Kar Wai which have been restored by the director in partnership with Mubi. The festival also celebrates the 70th anniversary of the French film magazine 'Cahiers du Cinéma' with an exhibition and screenings of classic French works from Louis Malle, Eric Rohmer, Jacques Rivette, Jean-Luc Godard and Costa-Gavras.
"Our mission is to rebuild Rio's role in the audiovisual sector and strengthen the sector with investment, which we have already started to do," said Eduardo Paes, Mayor of Rio de Janeiro. "Rio as a city depends a lot on culture, as it helps to build the history and identity of our city and our people. Festival do Rio is one of the pillars of our renaissance on both the national and world stage."
"This year's selection," said festival director Ilda Santiago, "shows a strong Brazilian cinema, full of reflection which, despite far from ideal conditions, is ready to reclaim its place with the cinema going public."
The plan is to return in 2022 with a full-length edition and new banner sponsors.