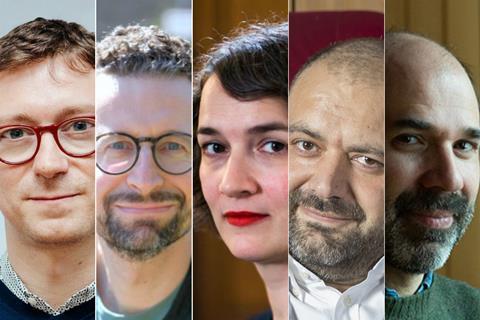 Curious industry watchers and audiences are likely to find out at least one film that was confirmed for the now-cancelled edition of Cannes Directors' Fortnight 2020.
Paolo Moretti, head of Directors' Fortnight, told a Visions du Reel online panel he was happy to give the label of "Directors' Fortnight 2020 selection" to one film (he didn't name the film) that was likely to be launched in November in cinemas or online if it would help the film's journey.
"They want us to certify that we selected the film," Moretti said of the filmmakers and the film's distributor. "If it can be useful for the film, we will be open to the idea."
However Moretti said the option of a Directors Fortnight 2020 label would only be possible for a "limited number of films".
"A lot of decisions for Cannes selections are made in the very last moment, so there are a number of films that we saw that we like that we hadn't proceeded with an invitation," he said. "For those we are in discussion with filmmakers, producers, rights-holders, to discuss the opportunities [to support those films]."
Moretti was talking as part of an online panel about "film festivals under Corona-times" that took place on Sunday April 26 as part of Switzerland's Visions du Reel documentary festival. The Zoom webinar, moderated by Screen International reviews editor and chief critic Finn Halligan, also included Visions du Reel's artistic director Emilie Bujès; Sergio Fant, member of Berlinale selection committee and head of programme at Trento Film Festival; IDFA artistic director Orwa Nyrabia; and IndieLisboa artistic director Miguel Valverde.
Toronto's Diana Sánchez had been due to take part but had to cancel her participation.
Bujès said the idea behind the panel was about "sharing ideas" rather than "finding solutions" in this rapidly changing, unprecedented situation.
Each festival is in a unique position: Visions du Reel is now running online public screenings as well as digital industry activities. The Berlinale was the last major film festival to hold a full physical event before lockdowns came to Europe; Cannes Directors' Fortnight has cancelled its edition this year (alongside other sidebars Critics' Week and ACID); IndieLisboa has postponed its usual April dates to hopefully kick off a physical event in late August; IDFA is waiting to see what might be possible for its November dates.
For IndieLisboa, Valverde explained even if a physical festival can run from August 25 to September 5 in Portugal, the number of guests will be lower than usual – even if it's just local audiences. Cinemas are likely to have some social distancing measures in place. He noted they will try to also have "more open-air screenings."
"We tried everything"
Moretti said cancelling this year's Directors' Fortnight "was a very tough decision. We tried everything before taking such a decision."
He explained that to postpone the Fortnight until a future date such as late autumn when gatherings might be allowed in France "was not viable economically. That would have compromised the future of our institution over the next years".
The team "continues thinking about 2020," he revealed. The 20-something-film selection was not yet completed when they had to cancel, so they won't ever announce this year's lineup in full.
But they will try to support in bespoke ways any of the films they had either invited or considered inviting. "There are some [of those films] that will be released in 2020 no matter what. There are others in a state of shock that haven't decided yet. There are others projecting into the future [for launching in 2021 or beyond].
"There are a lot of films that we saw and we keep in contact with. In order to support them in whichever way it will become clear. At the moment everything is undetermined."
Of the larger plans still potentially afoot for Cannes' Official Selection, he added, "There are still other options being imagined for Cannes 2020. If anything happened at some point we are would be happy to continue the discussion. But I can't really imagine what format that will take."
Nyrabia added, "It's good luck for a festival in November that we can learn from what our colleagues are going through [such as at Visions du Reel and CPH:DOX] and see where this will lead. Maybe [IDFA] will a hybrid festival. We still don't know if there will be cinemas or not. When there is one open cinema, we will be there. We cannot cancel this possibility. We are working on both sides, parallel together. We still have a bit of time to think and see what happens in Europe and internationally."
The Berlinale's Fant said he has lingering concerns for the films that premiered there. "Most of our films were world premieres," he explained. "Usually they have further festival invitations lined up, or distribution deals on the table. Everything has frozen. he main concern is for the films that are stuck.
"Films will still be struggling to find the best solution," he added. "Will they wait until after the summer to see if more festivals and distribution will be available? Or will they go to platforms now?"
Moretti noted for a programme such as Directors' Fortnight, moving the films online is not up to them. "Is that a decision that belongs to us? That's a decision that the rights holders of a film should make. We are not there to push anything, we are there serving the film."
Online premiere debate
Fant said the industry will need to reconsider the impact of a distribution chain that has been upended. "When we put films online at the beginning of the life of the film, what kind of chain is starting or what is supposed to happen? Will that film still be up for screenings later in the year in cinemas or festivals when they open again? Or will that film be labeled as something that has been online already, which was traditionally the last stop of a film?"
Bujès said she hopes the films that have their world premieres online at Visions du Reel would have the chance to have a "physical world premiere" at other festivals once things reopen. All of the films in the international competitions are geo-blocked and allow a maximum of 500 views.
"We should open things and allow for other forms and other understandings," she said. "We want to defend the festivals and their role, but we want to support those directors who are very now insecure."
An online festival screening for a maximum of 500 people, should not be seen as the same thing as a film being launched on Netflix, Moretti suggested "We're talking about an online festival screening, especially in this moment, that shouldn't compromise the international career of the film in any way."
Nyrabia also cautioned against releasing brand-new films onto existing platforms. For instance, IDFA online has a popular resource of more than 300 older films that had played at the festival available to screen online. But he wouldn't want to put world-premiere films next to those library offerings.
Greater audience reach
Nyrabia is hopeful this strange year can teach us lessons about the possible democratization of film distribution. "Can going online mean that people who have lower purchase power, who can travel the world less, have an equal seat?"
For example, audiences living in rural Denmark, not just Copenhagen residents, could access CPH:DOX online screenings. It is the same with Visions du Reel's Swiss audience outside Nyon.
Fant added he hopes this time of rethinking can help some festivals become more useful in the year-round ecosystem of connecting film to audiences. "I hope we also learn lessons that festivals don't do enough to help the system work well at different levels, not just in their own bubble."
Bujès is optimistic the online audience Visions du Reel is reaching in this unique edition of 2020 can still be tapped into for 2021 and beyond. "We are potentially touching new people and we will have to go get them and make them come to the cinema and show them the real experience," she said.
One silver lining of the current situation is the connections being fostered in this unusual time. "There is more mutual understanding, solidarity, learning to collaborate," said Moretti. "I hope that will stay with us and will change the landscape and the way we work."
Visions du Reel's industry talks series continues with further conversations about how the international film industry is adapting to the corona-times. There are also online masterclasses with Claire Denis, Petra Costa and Peter Mettler open to public viewers.
Visions du Reel continues online until May 3.