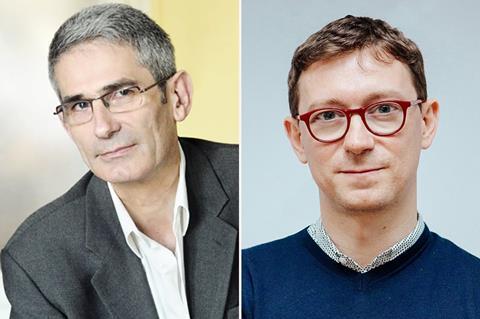 Cannes parallel sections Critics' Week, Directors' Fortnight and ACID announced on Wednesday (April 15) that they were cancelling their 2020 editions due to the Covid-19 pandemic.
The respected sidebars had originally been due to take place alongside the Cannes Film Festival during its cancelled dates of May 12-23, and had then been holding out to run during a potential end-June, start-July slot, which has now also been abandoned after the French government extended a ban on large gatherings to mid-July.
"Following the French president's April 13 announcement banning any festival from taking place until mid-July, the parallel sections of the Cannes Film Festival acknowledge that the previously considered postponement to late June, early July is no longer an option. Consequently, the Directors' Fortnight, La Semaine de la Critique and ACID regret to announce the cancellation of their 2020 editions in Cannes," the sections said in a joint statement.
"The health crisis we are all presently facing makes it impossible to anticipate the practical course of events. However, in order to support the whole film industry impacted by the current circumstances, each section, in consultation with the Cannes Film Festival, is looking at the best way to keep on supporting the films submitted to its 2020 edition," they added.
The announcement comes a day after Cannes acknowledged that a tentative plan to reschedule its 73rd edition for an end-June start was no longer viable after the French government extended the ban on large gatherings.
Cannes Critics' Week, which was created in 1962 by the French Syndicate of Cinema Critics, was due to mark its 59th edition this year. With its focus on emerging filmmakers and first and second features, its past discoveries include filmmakers Leos Carax, Wong Kar-wai and Alejandro González Iñarritu. It is currently headed by artistic director Charles Tesson.

The section typically premieres around a dozen features in and out of competition as well as a selection of 15 short films. For the 2019 edition, it received 1,050 feature film submissions and 1,605 short films.
The 2019 selection featured Jérémy Clapin's animation I Lost My Body, which won the top prize and went on to be Oscar-nominated in the feature-length animation category. Other films in the line-up included offbeat Moroccan comedy-drama The Unknown Saint and Irish sci-fi thriller Vivarium.
Directors' Fortnight, which was created in 1969, has its roots in France's period of social unrest in 1968. It was set up as an alternative to the establishment run Cannes Film Festival with a focus on international, innovative filmmaking and non-established filmmakers.
Over its 52-year existence, it has shown the early films of the likes of Martin Scorsese, Ken Loach, George Lucas, Chantal Akerman, Jim Jarmusch, Nagisa Oshima, Bruno Dumont, and Jean-Pierre and Luc Dardenne.
Last year's selection, which marked the first edition of current artistic director Paolo Moretti, featured Robert Eggers's The Lighthouse, Nicolas Parisier's Alice And The Mayor, Shahrbanoo Sadat's The Orphanage and Quentin Dupieux's Deerskin.
The ACID sidebar was France's Association for the Diffusion of Independent Cinema in 1993 to give greater visibility to up-and-coming independent filmmakers, who struggle to get distribution for their films.
Over 17 years it has supported the works of Serge Bozon, Lucas Belvaux, Alain Gomis, Claire Simon, Djinn Carrénard, Pierre Schoeller, Vincent Dieutre, Arnaud et Jean-Marie Larrieu, Rachid Djaïdani, Nicolás Pereda, Ursula Meier, Avi Mograbi, Yolande Moreau and Gilles Porte.
The Cannes Film Festival abandoned its May 12-23 dates on March 19 due to the worsening Covid-19 in France but vowed to carry on its selection process and come up with a solution to somehow hold the event, which is one of the most important meetings in the calendar for the international film business.
Delegate general Thierry Frémaux is reportedly clinging onto hopes that he can somehow carry on the work of the festival although it is unclear what options are workable at this stage.
In the backdrop, the festival's accompanying Marché du Film's planned online market is now expected to kick off on June 22 while US buyers and sellers told Screen overnight that they were ramping up efforts to launch unilateral virtual initiatives around the same time.