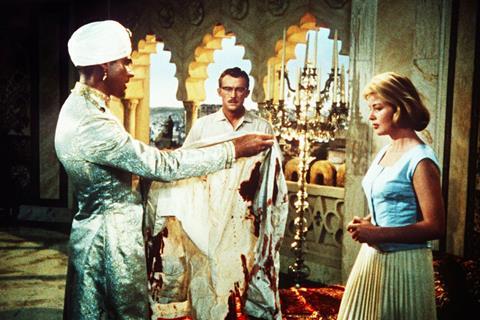 Film Movement Classics has acquired US and English-speaking Canadian rights to Fritz Lang Indian Epic, the two-part cliffhanger comprising The Tiger Of Eschnapur and The Indian Tomb.
The distributor plans a 2019 release as a theatrical double feature followed by digital and home entertainment release, and a launch on FilmMovement's SVOD platform, Film Movement Plus.
After more than two decades of exile in Hollywood, Lang triumphantly returned to his native Germany to direct the two-part cliffhanger in 1959 from a story he co-authored nearly 40 years earlier.
Film Movement president Michael Rosenberg, and Jeffrey Engelen, international sales manager at Beta Film, announced the deal on Thursday (7).
In The Tiger Of Eschnapur (Der Tiger von Eschnapur), Western architect Harold Berger played by Paul Hubschmid is called to India by Chandra, the Maharajah of Eschnapur, and falls in love with the temple dancer Seetha (Debra Paget) who is promised to the Maharajah. When Chandra finds out, the lovers flee into the desert.
In the second part The Indian Tomb (Das Indische Grabmal, pictured), Berger and Seetha are rescued from a sandstorm, only to be captured by Prince Ramigani. The film features a trek through a jungle, a cave of lepers, and a bloody palace rebellion.
"From his earliest days behind the camera, Fritz Lang proved to be both a visionary and an auteu, capable of transforming ideas into grand silver screen spectacles," said Film Movement president Michael Rosenberg. "Though his Indian Epic proved to be his greatest box office successes in his homeland of Germany, it didn't have the same reception in the U.S. We're excited to bring back an era of serialized adventure with these classic films and release them as they were originally meant to be seen."
Film Movement recently acquired Marie Losier's documentary Cassandro The Exotico! about Mexico's gender-bending Lucha Libre champion; LGBT drama Rafiki from director Wanuri Kahiu; Marine Francen's period drama The Sower; Wolfgang Fischer's sailing drama Styx; and Ash Mayfair's period drama The Third Wife.