Upcoming features starring Michael Fassbender and Jude Law will be taken to market alongside a wave of titles that include first time filmmakers, documentaries and shorts.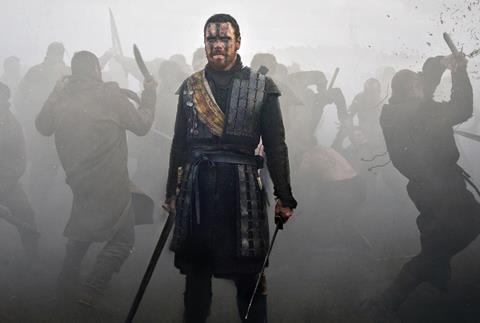 Film4 is heading into Cannes with a slate that highlights its ongoing commitment to a range of UK talent, from first time directors to established auteurs.
Giving Screen a first look at the showreel it will be taking to the Cannes market next week, outgoing Film4 head Tessa Ross said the line-up "showcases a host of filmmakers, both new and established, with a unique vision and a breadth of brilliant storytelling".
New titles in development include documentary Forgiveness, from Searching For Sugar Man producer Nicole Stott and executive producer John Battsek.
The feature debut of Elizabeth Stopford explores the ideals of a community put to the test in the wake of two inexplicable shooting sprees. The film weaves stylized dramatic reconstructions of the murders in the past with the ongoing journeys of key characters in the present, framed visually by the passing of four seasons in an isolated mid-western town. The White Rabbit Films production is made in association with Passion Pictures.
The line-up also reveals that Independent has picked up international rights to documentary Thomas Quick: The Making of a Serial Killer.
Directed by Brian Hill and produced by Century Films, the doc unravels the truth behind Sweden's most notorious serial killer who confessed to the rape, murder and cannibalism of more than 30 men, women and children. New evidence, however, shows he may not be a killer at all.
Independent is also handling sales on corrupt cop drama Hyena, written and directed by Gerard Johnson.
In addition, Protagonist Pictures is to handle international sales on Dark Horse, a heart-warming documentary about a racehorse bred in a depressed mining village in South Wales. Directed by Louise Osmond (Deep Water), it is made by Darlow Smithson Productions and World's End Pictures.
Shorts
The line-up highlights that Film4 will continue to make shorts with new talent, which includes The Briny from Olivier award-winning playwright Lucy Kirkwood; Gotcha from Bat for Lashes musician Natasha Khan; and Polar Bear from prize-winning playwright Sean Buckley, who also wrote on teen drama series Skins.
Film4 development editor Eva Yates said: "Each is unique but we're excited about the originality of voice and cinematic possibility in all three talents.
"We're also really happy to be working with new female voices and continue to support talented creatives from other disciplines as they transition into filmmaking."
Yates added that there will be a couple more short commissions announced later this year. And former Screen Star of Tomorrow Jonathan Entwistle's The End of the F*cking World is recently completed.
In production
John Maclean, whose Film4 short Pitch Black Heist won the BAFTA for Best Short Film in 2012, has made his feature debut with Slow West.
Reuniting with Michael Fassbender, who starred in his short, the feature is set in 19th century Colorado and tells the story of Scottish 17-year-old Jay (Kodi Smit-McPhee) as he travels to the American frontier in pursuit of his lost love in the company of a mysterious drifter Silas (Fassbender) who offers to protect him for a price. Hanway Films is selling.
Film4's showreel included brief, arresting moments from Macbeth, starring Michael Fassbender and Marion Cotillard as the murderous couple from Shakespeare's play, set in medieval Scotland and directed by Snowtown's Justin Kurzel. Produced by See-Saw Films, international sales are handled by StudioCanal.
Giving little away was a tantalising look at Oscar Issac in Alex Garland's artificial intelligence thriller Ex Machina, which also stars Domhnall Gleeson and Alicia Vikander. Produced by DNA Films, it is sold by Universal Pictures International.
Thrilling scenes were shown from submarine treasure hunt Black Sea, from BAFTA and Oscar-winner Kevin Macdonald, which features Jude Law in the underwater drama. Produced by Cowboy Films, Focus Features International is selling.
Other titles in production include:
Carol, Todd Haynes' period romance starring Cate Blanchett and sold by Hanway Films;
Suffragette, directed by Sarah Gavron, produced by Ruby Films and sold by Pathe;
Life, Anton Corbijn's James Dean feature, starring Robert Pattinson and Dane DeHaan, sold by FilmNation Entertainment;
The Lobster, Yorgos Lanthimos' sci-fi love story, sold by Protagonist Pictures; and
45 Years, starring Charlotte Rampling and Tom Courtenay, from Weekend director Andrew Haigh, produced by The Bureau and sold by The Match Factory.
As well as the aforementioned Forgiveness, future productions include:
Official Selection
The slate was later showcased at Film4's annual pre-Cannes event in London.
The company has three films in Official Selection this year: Mike Leigh's Mr Turner and Ken Loach's Jimmy's Hall, which both play in Competition; and Daniel Wolfe's Catch Me Daddy, part of the Directors' Fortnight line-up.
The line-up marks the last to be overseen by Tessa Ross, who will step down in September to become chief executive of the National Theatre.
In the introduction to the slate in Film4's brochure, Ross said: "Over the past 11 years at Film4 I've had the honour of working with some of the most talented and committed people in the industry.
"I've loved every minute of the work, so it's with a heavy heart that I say goodbye in September to an organisation that I believe in passionately. I leave behind a brilliant, dedicated team who will continue Film4's important work – and I look forward to seeing the next chapter of visionary films and filmmakers to come."