Na Hyun's crime drama sells to Japan, France, Switzerland and Africa.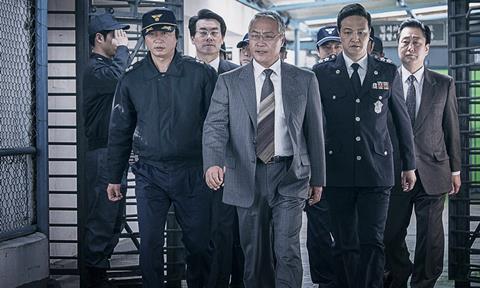 South Korean distributor Showbox has sold crime action film The Prison to Japan (The Klockworx), as well as to France, Switzerland and Africa (Swift Productions) and worldwide in-flight (Emphasis).
Directed by Na Hyun, the film stars Kim Rae-won (Gangnam Blues) as a former police inspector who's sent to prison for a hit-and-run accident and finds the whole place, including the warden and guards, is run as a crime syndicate by an inmate played by veteran actor Han Seok-kyu (The Berlin File).
Showbox has the film set for local release on March 23. WellGo USA has a March 31 release planned for North America.
In addition to their deal to North America, Showbox did pre-sales on The Prison to Australia and New Zealand (JBG Pictures), China (Lemon Tree), Philippines (Viva Communications) and Taiwan (MovieCloud).