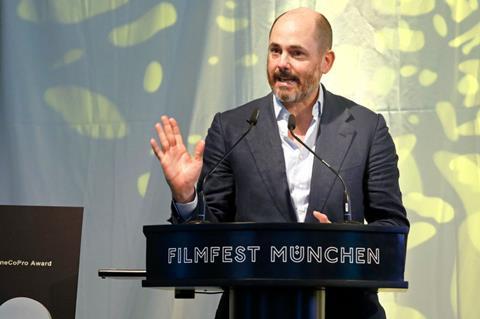 Viola Fügen and Michael Weber of Berlin-based Pola Pandora Filmproduktion picked up the inaugural €100,000 CineCoPro prize at the Munich Film Festival on Friday July 5, at a ceremony during which writer-director Edward Berger described the German film industry as "a cinematic wasteland" in a provocative keynote speech.
Pola Pandora won for its role as the German co-production partner of Brazilian director Karim Aïnouz's The Invisible Life of Euridice Gusmao.
Berger, best known for his work on international TV series including Sky's Patrick Melrose, UFA Fiction's Deutschland 83, and AMC's The Terror, recalled the time his film Jack screened in Competition at the Berlinale in 2014. He had hoped the platform would finally open doors to him.
"It was the moment when other producers were [supposed to be] interested in the films I wanted to make and were willing to support them," he said. "But in my case, where did this support come from? To be honest, it didn't necessarily come from Germany [except for my producer Jan Krüger]. The first enquiry came from Film4 in the UK."
"When I sent an invite to my former producer to the premiere [of Jack], at the Berlinale she wrote back: 'Sorry, I can't make it, I am having a colonoscopy today'," Berger continued. "That was the moment I realised the country we live in is a cinematic wasteland."
"[Germany] may be good at building cars, but cinema has passed us by pretty much," he suggested.
Encouraged
However Berger said he was cheered by the example set by the German producers in the running for the CineCoPro prize,
"You are the ones who stay in your seats after the award ceremony to watch the winner of the festival rather than go to the closing night party," he told the producers in the audience. "You are the ones who walk up to the directors and ask what films you can help them make. By doing that, you give us writers and directors in any part of the world the courage to tell a story that has never been told before."
"I now know what this encouragement means," he continued. "I now know what it feels like to be received with open arms even if it is in a country that's not your own. It literally feels like an invisible heavy lid has been lifted from your skull, and that you finally find what you have been missing, your voice."
CineCoPro is Munich's new competitive section dedicated to international films with German co-producers and was supported financially by Bavaria's ministry of digital affairs. Its support for the international ambitions of German producers prompted some to point out the kind of arthouse films selected for the CineCoPro competition were rarely supported by Bavaria's regional FFF Bayern film and television fund which is focused predominantly on local fare and is also supported by the ministry.
Moreover, FFF Bayern's programme for international co-productions – regularly mentioned in connection with the launch of CineCoPro – requires theatrical films hoping to receive support from this fund to have a budget of at least €5m, the German co-production share must be at least 50%, and at least half of the shooting days must take place in Bavaria.
None of the nine titles competing for the award would have met this criteria and none had received production funding from FFF Bayern's main production fund.
However, other German regional film funds are more open to German minority co-productions: Pola Pandora Filmproduktion, for instance, received backing from Medienboard Berlin-Brandenburg for The Invisible Life of Euridice Gusmao, and another of Michael Weber's co-productions in the running for the CineCoPro Award – Marco Bellochio's The Traitor – had been supported by Film-und Medienstiftung NRW.
Further CineCoPro titles that were able to tap into the German funding system included Adomeit Film's production of Afghan director Shahrbanoo Sadat's drama The Orphanage, which was supported by Filmförderung Hamburg Schleswig-Holstein, while Pallas Film accessed funding from Leipzig-based MDM Mitteldeutsche Medienförderung for Eli Suleiman's It Must be Heaven.
FFF Bayern backs international series
Meanwhile, the first international series to receive support totaling €2.1m from FFF Bayern's international co-production programme were announced last week. They are Constantin Film and Amazon Prime's eight-part series Wir Kinder Vom Bahnhof Zoo, based on the hit film of the same name, which is a co-production with Prague-based Wilma Film and Italy's Cattleya which received €1m.
A further €1.1m went to two Netflix series – the third season of Dark produced by Wiedemann & Berg ,and the thriller Biohackers, produced by Claussen+Putz Filmproduktion.