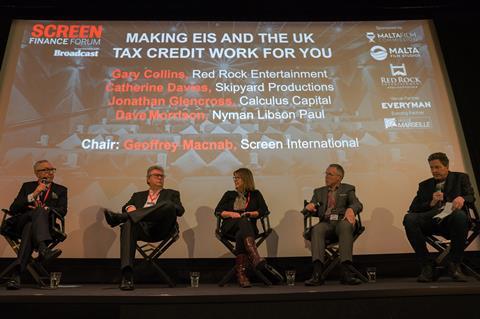 Relations between film financiers and the UK's inland revenue department HMRC came under focus at Screen's Film Finance Forum in London on Thursday (December 5).
"We have had two and a half years of hell," said accountant and film finance expert Dave Morrison, a partner at Nyman Libson Paul. He was talking about the great difficulty many have had in securing approvals and clearances from HMRC since the changes to the rules governing the tax-based Enterprise Investment Scheme (EIS) were introduced in 2018.
However, Morrison went on to strike a more optimistic tone, pointing out more EIS schemes for film and TV are being approved by the HMRC. "We're in a much better place than we have been for a long time," Morrison said.
Under the new rules, companies applying for EIS funding are now required to show their companies have long- term growth plans. There is a "risk to capital" test for their investors and single projects are no longer eligible.
Earlier this year, many producers and financiers were striking a despondent note, suggesting EIS was no longer a tool that could be used effectively for film and TV.
Jonathan Glencross, co-founder and CEO, Calculus Capital, which is managing the BFI's EIS-based UK Creative Content Fund, joined Morrison on the panel. The Fund announced its first investment - into David Abraham's new company, Wonderhood Studios - earlier this week.
"We should recognise that HMRC are about collecting tax. They are not exactly going to be Santa Claus," Glencross said.
However, he gave credit to the "immense amount of work" done by the BFI in "bringing HMRC forward" and in "educating" tax inspectors to "understand the industry".
He encouraged the industry to look forward, not back. "We've moved on," he said. "HMRC, Treasury and DCMS all recognise the importance in the 21st century economy for the UK of the creative industries."
Glencross said the Creative Content Fund is generating strong interest from both film and TV companies and investors. "On the investment side, I am impressed by the number of promising companies with able, experienced managements seeking equity investment from the Fund," said Glencross. " On the investor side, it is capturing the imagination as a new fund from a well-known manager."
Morrison and Davies were joined on the panel by Gary Collins CEO, Red Rock Entertainment, and Catherine Davies co-founder, producer and creative director, Skipyard Productions.
Screen's UK Film Finance Forum took place at the Everyman Broadgate in London.